Have you ever thought of how dentures can transform your life? Dentures before and after are no longer the uncomfortable, ill-fitting devices from the past. With advances in technology and materials, they can give you a natural-looking and comfortable solution to missing teeth, improving not only your smile but also your confidence and overall quality of life.
Key Takeaways
Dentures are an effective and affordable way to replace missing teeth, restoring confidence in one's smile.
Different types of dentures provide varying levels of transformation with some offering a dramatic difference before and after treatment.
Consulting with a dentist is the best way to determine which type of denture option is best suited for your oral health, lifestyle and budget.
The Impact of Dentures on Your Smile
Missing teeth can have a significant impact on your appearance, speech, and ability to eat comfortably. Dentures are an affordable and effective way to replace those missing teeth, providing a natural-looking solution that can make you feel more confident in public and support your remaining teeth.
The two main types of dentures are full and partial dentures, each catering to different needs. Now, we will explore how these denture types can improve your smile.
Full Dentures Before and After
Full dentures, also known as complete dentures, are designed to replace all teeth in the upper or lower arch, restoring a patient's smile and facial structure. Upper and lower dentures are constructed from acrylic, porcelain, or a combination of both, carefully crafted to complement the patient's natural teeth, resulting in a brighter smile and youthful appearance. However, transitioning to wearing dentures for the first time requires patience and adjustments after healing.
Before receiving their new denture, patients with bad teeth or missing front teeth may find it difficult to smile confidently. The full denture not only replaces missing teeth but also supports facial structures and muscles, improving the overall appearance of the face. A well-fitted full denture allows patients to exude confidence in their new smile, as seen in the smile gallery of before and after pictures.
Allowing the gums time to heal after teeth extraction is a crucial step before fitting an upper or lower denture. Denture before and after pictures demonstrate that no case is beyond remedy, and not all dentures are created equal. With a proper fit and realistic expectations, full dentures can provide patients with a dramatic transformation and a beautiful, functional smile.
Partial Dentures Before and After
Partial dentures are tailor-made to fit the gap left by two or more missing teeth. They are prosthetic dental appliances used to help restore the patient's natural smile. They provide support to facial muscles and prevent sagging, helping to maintain a brighter smile and better oral health. Partial dentures can be an affordable and effective way to replace missing front or back teeth, whether due to advanced periodontal disease, injury, or decay.
For example, Bernie had removable partial dentures before his restoration. His new implant-retained partial denture, designed specifically for his missing back teeth in the lower jaw, resulted in a significant improvement in both appearance and comfort. The dramatic difference before and after the treatment can be seen in the smile gallery.
Acrylic partial dentures are another option for those seeking a quicker solution to deteriorating teeth. These custom-made appliances are composed of a hard, durable acrylic resin that imitates natural teeth and gums. While they may not have the same stability as all-on-four implants, they offer a more affordable and prompt solution to improve your smile.
Immediate Dentures: A One-Day Transformation
Imagine walking into a dental clinic with failing teeth and walking out the same day with a brand-new denture. That's the magic of immediate dentures. They offer a quick transformation from deteriorating teeth to a complete set of dentures in just one day.
Success with immediate dentures hinges on careful preparation and realistic expectations. Here are some key points to keep in mind:
A proper fit necessitates a comprehensive dental exam, X-rays, and impressions of the patient's mouth to create the dentures.
A successful outcome with immediate dentures largely depends on the healing process after tooth extractions, and having realistic expectations about their effectiveness.
As the jawbone changes shape, the dentures may need adjustments or replacement to maintain a comfortable fit and natural-looking smile.
Though immediate dentures offer a speedy solution, the need for additional dental visits for fit adjustments may arise. But for those who cannot wait for the healing process after tooth extractions, immediate dentures can be a life-changing option.
Implant-Retained Dentures: Stability and Comfort
For those seeking added stability and comfort, implant-retained dentures, also known as snap-in or snap-on overdentures, may be the ideal solution. These dentures offer the following benefits:
They clip onto corresponding dental implants, providing a secure fit without the need for adhesive.
Typically, overdentures require support from 2-4 implants.
This type of restoration can provide improved stability and chewing function compared to a removable denture.
Snap-in dentures offer a greater sense of stability throughout the day, making it more comfortable to communicate and consume food. By eliminating the need for denture adhesives, implant-retained dentures provide a hassle-free and comfortable experience for the wearer. If needed, replacement snap in dentures can be obtained to maintain this level of comfort and stability.
Updating Worn and Faded Dentures
Regular wear and tear, coupled with changes in the shape of the mouth, can cause dentures to become worn and faded over time. Keeping your dentures up-to-date is crucial for preserving an attractive smile and optimal functionality.
Options for updating worn dentures include:
Relining: This process involves adding new material to the base of existing dentures.
Rebasing: Replacing the entire base with new material.
Remaking: Constructing a new set of dentures from the ground up, offering a pristine, natural-looking appearance and the best possible fit.
All-on-Four Technique: A Modern Solution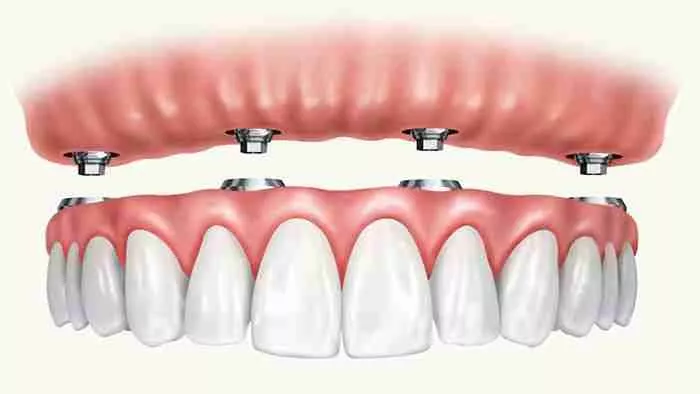 Using digital dentures and four implants to secure dentures or bridgework, the All-on-Four technique presents a contemporary solution for missing teeth. This innovative method offers a permanent, non-removable solution that feels and performs more like natural teeth than any other type of denture available.
All-on-Four implants are placed strategically within the oral cavity to support a prosthetic bridge of new teeth that are then affixed to the implants. Generally, full-arch systems like All-on-Four require four implants (sometimes six). This technique is a more expensive option compared to traditional dentures, but it provides a secure and natural-looking smile that many find worth the investment.
The entire procedure is planned step by step, with follow-up care and additional procedures if needed, to restore the patient's natural teeth. The result is a fully functional, non-removable set of teeth that provide a dramatic transformation in appearance and quality of life.
Dentures Gone Wrong: The Importance of Proper Fit
Not all dentures are created equally. Properly fitted dentures are crucial for comfort and functionality, as seen in before and after pictures that highlight the dramatic difference between poorly fitting and well-fitted dentures. Ill-fitting dentures can cause generalized soreness in the jaws and difficulty in fully bringing the lips together in a relaxed state.
One example is a young adult with a "before" denture that occupied an excessive amount of space in his mouth, hindering her ability to function properly. The "after" denture fits his mouth perfectly. This enables him to do everything as normal, from eating to speaking and even smiling..
It's always advisable to be mindful when approving a wax try-in. As this case illustrates, thorough inspection of the setup and satisfaction with the teeth's appearance in the mouth are prerequisites before accepting the final look. Proper fit is key to a fully functional and comfortable denture experience.
Consult Your Dentist for the Best Option
Given the array of denture options, choosing the most suitable one for you can be daunting. Hence, a consultation with your dentist becomes invaluable in guiding this decision. Dentists possess the expertise to:
Evaluate your oral health condition
Present personalized treatment plans
Furnish professional advice
Guarantee long-term oral health
Whether you need partial dentures, implant-supported restoration, or immediate denture prosthesis, your dentist can guide you on the best course of action. Take the time to discuss your budget, lifestyle, and oral health requirements to ensure you select the most appropriate denture option for you.
Summary
In conclusion, dentures have come a long way from the uncomfortable, ill-fitting devices of the past. From full and partial dentures to snap-in and All-on-Four implants, there are numerous options available to restore your smile, confidence, and overall quality of life. Consult with your dentist to determine the best denture solution for you, and take the first step towards a brighter, more confident smile.
Frequently Asked Questions
What is the downside to having dentures?
Getting used to dentures can take time and some people never adjust completely. Additionally, they make it harder to eat certain foods and can cause a change in speech, as well as requiring special cleaning and care.
How long does it take for dentures to feel normal?
It typically takes about 30 days for dentures to feel normal. While you may be anxious to return to your regular activities, taking the necessary time to adjust is important. It is important to follow your dentist's instructions for wearing and caring for your dentures. This includes brushing them daily, soaking them in a cleaning solution
Can you sleep with dentures in?
It's best to take your dentures out at night and give your gums a rest, even when wearing partial dentures. This will help prevent any issues and ensure your safety.
What is the difference between full and partial dentures?
Full dentures replace all the teeth in the upper or lower arch, whereas partial dentures are used to replace two or more missing teeth.
How long do dentures typically last?
With proper care, dentures can last 5-10 years, making them a dependable and cost-effective solution to missing teeth.