Are you tired of having a not so nice smile?
Tired of spending hundreds of dollars and hours and hours in the dental chair?
And… Do you not like dealing with continuous dental upkeep?
With All on 4 all your problems can be solved in one visit, but what is the process and how much do full mouth dental implants cost?
This is Karen – case completed June 2022, All on 4 Upper and Lower
What is All on Four?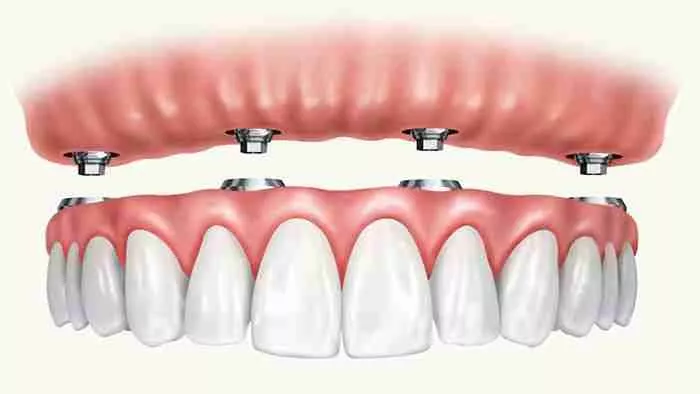 All-on-4 dental implants is a dental restoration technique that involves the placement of four dental implants into the jawbone to support a fixed full-arch prosthesis. This technique is designed to provide patients who have lost most or all of their teeth with a permanent set of replacement teeth that look, feel, and function like natural teeth.
The name "All-on-4" refers to the use of four dental implants to support the entire arch of replacement teeth, rather than using one implant per tooth. The implants are strategically placed in areas of the jawbone that have the highest bone density to provide maximum support.
All-on-4 dental implants have several advantages over traditional dentures, including improved stability and function, enhanced esthetics, and better preservation of jawbone structure. They also eliminate the need for messy adhesives and are easier to clean and maintain than traditional dentures.
Overall, All-on-4 dental implants can be a life-changing solution for individuals who have lost most or all of their teeth and are looking for a long-term, functional, and esthetic replacement option.
Need A Permanent Solution to Dental Problems?
As of 2022, more and more people today have a problem with their teeth, gums and/or dental health in the full set of teeth.
It may be just a tooth decay, severe gum disease, broken caps or bridges, missing teeth, failing teeth or serious dental condition affecting the teeth and gums or years of dental neglect. But, some dental issues can significantly affect one's capacity to eat, smile, communicate well and bring down their self esteem.
Are full mouth dental implants a good idea?
Whether you are looking to upgrade your dentures or you are looking for full set of dental implants, All on 4 may be your best solution.
With this type of dental full mouth restoration your teeth will be permanently fixed to your jaws and you will never worry about tooth decay, gum disease or root canals ever again.  Implanted teeth are stronger than natural teeth and usually last longer too.
This treatment is for those who do not want to wear dentures.
Can I have all my teeth removed and replaced with implants?
Yes, we prefer to remove all the teeth and place all the implants in one sitting.  It is easier for the patient.  You heal in a week whether we remove one tooth or multiple teeth.  Implants do need a few months to heal so we will make sure you have temporary teeth during that time.
Is a full set of dental implants worth it?
For those missing or going to lose all their teeth, a full set of implants can potentially last your entire life.  A one time investment in your mouth can pay dividends for years to come.
What is the cheapest way to replace all teeth?
The cheapest way does not include implants, but just with regular dentures.  We make those too.   Our in house prosthodontist has over 10 years experience with restoring mouths.  So for people on fixed income or ones who cannot afford expensive dentistry, then dentures are your best and only option.
Wondering how long it takes to get full mouth dental implants?
This is Al
How Do Full Mouth Implants Work?
For the All on-4 procedure four to six titanium implants are inserted on each jaw bone with perfect spacing. Then in a few months a fixed set of premium permanent artificial teeth which resemble your natural teeth are attached to the implants.
Additionally we use the same kind of implants that Clear Choice uses, therefore you can rest assured that your case will come out to perfection!
The teeth are permanently installed and cannot be removed except with the help of a qualified dentist that has experience in these types of restorations.  The full set of teeth implants are meant to chew anything including corn on the cob, apples, nuts and chicken wings.
These cannot be removed by the patient.   They are not removable like dentures.  They are made of high quality Zirconia with porcelain on top.  The results speak for themselves.
Where do I begin?
The implants are fixed through one oral surgical procedure, but the patient should have gone at least to two appointments to enable the dentist to develop a treatment plan, take a 3D CT scan and prepare for the case.
Usually temporary teeth will need to made in advance and you will never need to go without teeth.  Some patients are not candidates for implant treatment that is why we suggest you consult with your dentist first.
How is this Different to Clear Choice?
We provide the exact whole set of fake teeth as Clear Choice*, but we also offer full service dentistry including dentures, bridges, crowns, root canals and teeth cleaning.
We are also a regular dental office, but we have years and years of training in implant dentistry and employ one of the top prosthodontist's on the East Coast.  Therefore, there will never be a need to visit another dental office!  We will also maintain your restoration for years to come.
If your teeth can be saved and are serviceable for at least 10 years, we prefer to save them and add implants to the missing teeth.  This results in a better outcome, faster treatment time and a lesser cost.  At your consultation appointment Dr. Norkiewicz will review your options and together you will decide the best course of treatment for your particular situation.
What are the full fake teeth made out of?
Full mouth fixed implant bridges are generally made out of three materials.
The first set, also know as temporary teeth, is acrylic or plastic.  These teeth are made in our in house lab that fabricates them before we begin treatment.  After your only surgical procedure and once the implants are placed the temporary teeth are ready to be inserted.  You will leave that day with a brand new smile.
Three months later we begin the process of making the complete teeth replacement.  The final full mouth fixed teeth are either made out of either a gorgeous and strong material called Zirconia or an acrylic wrapped titanium bar.  Each and every full mouth case is different so it really depends on your unique situation.  No matter what you will get a stunning smile with a restoration that is built to last!
Do not settle for the acrylic teeth as your permanent set.  They will wear and break in a few short years and you will be left dealing with a big headache.
Additionally, all of our zirconia full arch restorations come with an industry leading full lifetime warranty!  If anything happens to your restoration, it can be replaced free of charge (literally with the push of a button).
This is Roger
How many teeth do you get with All on Four Dental Implants?
A normal person will have 14 teeth in the upper and lower arch.  When we restore with Zirconia All on X restorations we include 12 teeth.  Why only 12?  First of all 90% of chewing is done with just 12 teeth, most patients do not miss their back molars.  Secondly, the bone structure is not very supportive in the back of your mouth, therefore implants are not recommended there.
What is the Cost of Full Mouth Implants?
You are probably wondering how much does it cost to get a full mouth of dental implants?
The full set of dental implants cost anywhere from $12k to $25k per arch.  So if you really want to know exactly how much are implants for you, then we advise you to visit us for a complimentary consultation where we will take a 3D xray and review your options with you.
How much is a full top set of dental implants?
Lucky for you we do offer a one price option for complete removal of all teeth in an arch, all necessary bone grafting, 4-6 dental implants (the more the better), temporary teeth, and permanent Zirconia full arch restoration for only $24,999 completed in under 6 months!
We also offer snap in dentures for those who want a more affordable option at about the half the cost.
Our all on 4 procedure, similar to the Clearchoice technique, is much more affordable than whole mouth dental implants.  The cost of full mouth dental implants would involve an implant for every tooth and can cost you well over $100k because you would need 28 implants.
The all on four cost is about half that of full mouth tooth implants.
A full set of dental implants involves 4 to 6 implants on each arch to support a ridiculously strong arch of teeth made with an amazing lifetime warranty!
Full Dental Implant Options
If you have multiple missing teeth, hopeless teeth, full dentures, or simply just a terrible smile, there are many different types of full mouth dental implant options available for you.
One of the best options available in modern dentistry that you may be a candidate for is the, AO4, All-On 4 dental implants.  This is the exact same procedure that is performed by Clear Choice *.
But what exactly are these implants and are they the best choice for you? And how much does it cost to get a full mouth of dental implants?
Here is some information that can guide you to learn about all the full mouth implant options from All-on-4 to implant supported dentures.
What are All-on-4 Dental Implants?
Now when it comes to all on 4 dental implants, you get four to six implants to support a whole arch of teeth, also known as new Teeth-In-A-Day. So instead of using a different implant for every missing tooth, you use 4-6 implants both on top and bottom jaws to support an arch of teeth.
All on 6 dental implants are for those who have the necessary bone structure to support 6 fixtures.  Much like a chair has four legs and can support the weight of an individual person.  AO4 are the very best way to replace all your missing teeth and get new teeth now.  Keep reading to learn about the full dental implants cost.
AO4, or All-on-4 dental implant restorations can replace the entire set of teeth.  Meaning that you either have no teeth or the teeth you have are not savable or damaged beyond repair.  This usually happens with severe gum disease, where the teeth get loose and fall out, or severe tooth decay, mostly from sugary beverages like soda or years of dental neglect.

Call, Text or Complete Contact Form to get a Free Consultation & 3D Xray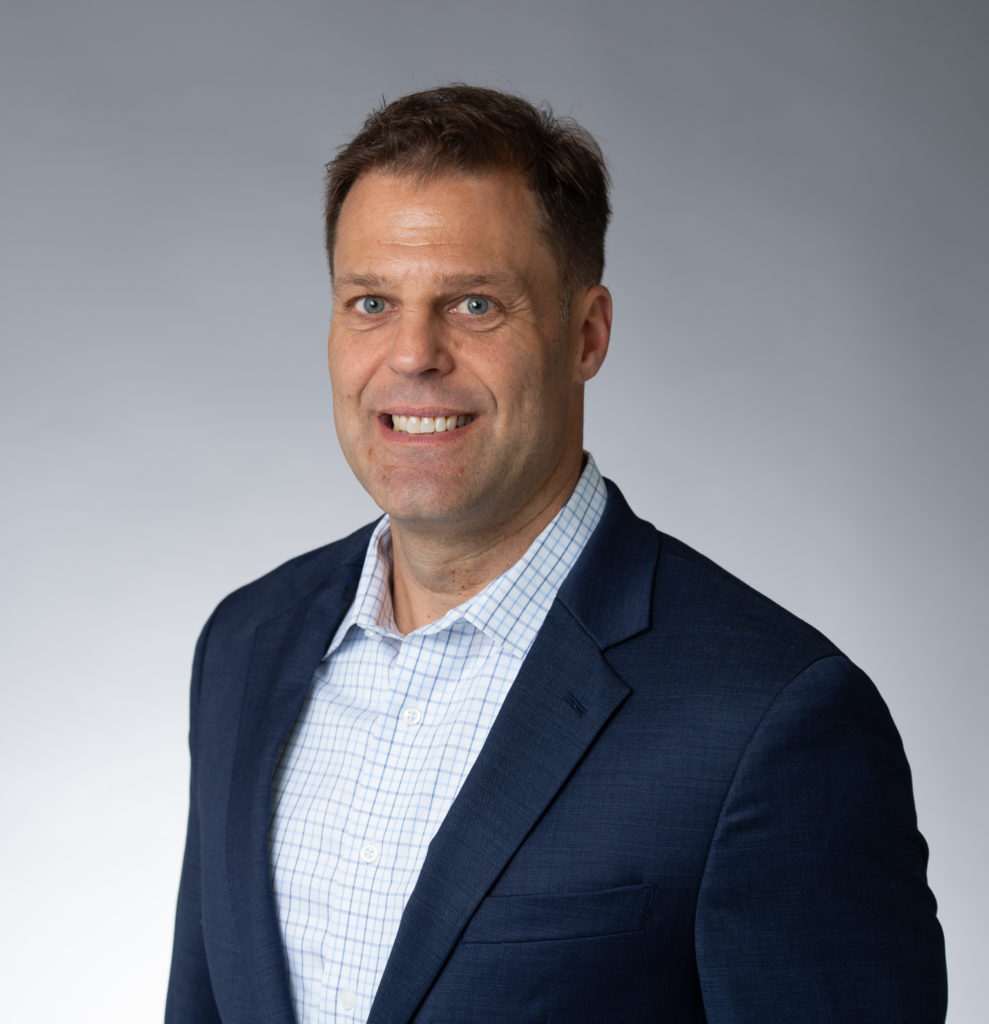 "I am Dr. Norkiewicz.  I started Rockville Dental Arts in 2002 where I began placing dental implants.  To date I have placed and restored over 5000 implants and completed hundreds of All on 4 cases.  Unfortunately, there are many reasons teeth are lost, but no one should have to live with missing teeth, bad smiles and removable dentures."
Curious about the All on 4 Step by Step?
Visit 1:  Impressions and a dental implants 3D jaw X ray will be taken.  The doctor will work up the case for you using our 3D scanner to digitally plan your all on four treatment

Visit 2:  The surgery is performed and you will leave with a temporary teeth made of acrylic
Visit 3:  Two weeks later you return to check the healing and make any adjustments
Visit 4:  Three months later we take impressions to begin the final prosthesis
Visit 5:  We take measurements for the new teeth
Visit 6:  We send you home with the all on 4 temporary
Visit 7:  Your new permanent all on 4 teeth are installed
There you have the all on 4 step by step process.  It's easy and our doctors have perfected the process by performing this procedure for over 10 years.
This is Estes – case completed July 2022, all on four upper and lower
Before you commit to another office or "big brand" competitor like Clear Choice, we recommend you get a second opinion.   Down the road if you need maintenance or have problems with your implant teeth you will need to seek care somewhere else.
Additionally the cost of full mouth implants can be significantly higher at corporate chains than small private dental offices like ours.  That is why at Rockville Dental Arts we urge you to visit us.  We will carry you A to Z and maintain you and your new teeth for years to come.
And the best part is that all our dental work is fully guaranteed and comes with a lifetime guaranty!  So if you are looking for dental implants Maryland, then look no further for the best implant dentist around.
There are many pros and cons of dental implants to consider.  Here are the pros.
An entire arch of teeth are replaced with few dental implants thereby reducing the cost
You will get a Beautiful New Smile
You can enjoy all the foods you want including corn on the cob
The Ao4 dental implants will help maintain the jaw bones
You will experience normal digestion from chewing food properly
The teeth are stronger than natural teeth
You will not need to use denture adhesives
You will get years of follow up, unlike at clear choice dental
Permanent teeth that do not need to be removed from your mouth
Smaller restoration as it only replaces the missing teeth and not the gums.
There are a few all on 4 procedure cons.  The first obvious one is the all on 4 implants cost.
This procedure is expensive as it is labor intensive and restores your mouth the absolute best way possible with the latest and greatest materials.  Read below to determine if you can afford the all on 4 dental implants.
The Full Mouth Dental Implants Cost
How much is this procedure you wonder?  Obviously it depends on your case and what it entails but typically the cost of all on four with permanent teeth can run about $15k to 25k an arch.
However you must know what you are paying for.  Most other offices do the teeth-in-a-day, but what you may not know is that sometimes their teeth are made of plastic or acrylic.  If you want permanent Zirconia teeth you have to pay extra, usually another $10k per arch bringing the total to over $35k an arch.
One Cost, No Surprises
How much do full dental implants cost at Rockville Dental Arts?  Here you get permanent teeth for about $25k an arch.
The other con is really the time.  The procedure takes about 6 months to complete.  Of course you will have temporary teeth during the process but you need to be patient with the process as there are many appointments to get you the perfect set of teeth you always dreamed about.
More Pros and Cons of All on Four
There are many pros and cons of full mouth dental implants.  The pros are your teeth are permanently screwed in, they will feel natural, and they will not decay or break.  Some cons to full dental implants are obviously the  dental implants cost, the length of time needed to complete the process (about 6 months) and the regular maintenance needed every 12 months.  
What is the all on 4 dental implants recovery time?  Typically all our surgery takes place in one sitting so our patients experience minimal discomfort.  Usually in 1-2 days they are back to work and their normal lives.  We recommend a soft diet for about a week and gentle cleaning and brushing.  Most of our patients report taking very few pain pills.
How long do All on 4 implants last?  Well, they never break, never get cavities and never need root canals. 
If well cared for by proper brushing, flossing, water pik and regular dental check ups every 6 months your all on 4 dental implants will last you the rest of your life. 
There can be all on 4 dental implants problems and only a all on 4 dentist is trained to deal with those problems.  But problems are rare. 
Be careful of other dental implant centers because they may try to sell you plastic teeth.  Plastic teeth with wear and break over time leaving you stranded.  At Rockville Dental Arts we only use high quality, high strength materials such as Zirconia for our hybridge cases.
Thinking about alternatives to dental implants?  Consider dental bridges or dentures.
What is the Treatment Like?

If you think you are a candidate for all on four then you should definitely visit Rockville Dental Arts.  We are similar to Clear Choice Dental Implant Centers but offer much more value.
Here at Rockville Dental Arts you will get individual attention to your case and Dr. Norkiewicz will see you from consult to completion to maintenance.  All our work is guaranteed to last as Dr. Norkiewicz has been a skilled implant dentist for over 20 years.
Dr. Norkiewicz does full mouth implant cases every day.  It is important to have this treatment done by an office that can do your oral surgery and prepare and fit your new teeth.
Because we can offer the full treatment for the all on four cases patients save anywhere from $5,000 to $7,000 per arch as opposed to going to a two-location approach where the surgeon and the dentist will both charge for their services.  Our goal is to make full mouth dental implant treatment affordable to those on a budget.
If you do not have an experienced implant dentist then problems with implants can occur.  Rockville Dental Arts is considered the best place to get dental implants in the state of Maryland.
So you've finally decided to get tooth implants?  Read our blog for more helpful tips.
Approximately, What is the Cost of All On Four?
How much does it cost to get a full mouth of dental implants?  How much do implants cost?  There is one fixed cost for these implant cases.  Are you wondering what is the cost of all on 4 dental implants?  It varies from patient to patient and also depending on the type of material used.
For example, for an acrylic dental implant restoration on one arch, you may be charged between $12,000 and $18,000. And if the material used is zirconia with porcelain, you will pay an additional of $5000 – $8,000 per jaw, so the total cost may range between $15,000 to $24,000 per arch.  A full mouth replacement will around $30 – 50,000.
How much is the Clear Choice * cost you wonder?  Usually, they are way more expensive.  However, some patients qualify for financing as low as $250 a month.
Full Mouth Dental Implants Cost

The all on 6 dental implants cost is the same as the all on 4.  So for patients that have ample bone structure we routinely place as many implants as possible.  Because with the all on 4 if you lose an implant down the road then you are in trouble.  But with the all on 6 you will still be able to wear your teeth.
How much does full dental implants cost?  If you replace each and every tooth with a dental implant and crown you would be looking at about $100k.  Luckily we can connect 3 to 4 teeth to two implants.  Therefore you only really need up to 6 implants to rebuild an entire arch of teeth with implant crowns. 
Our all on six dental implant cost is the same as we charge one flat fee per arch and it doesn't matter how many implants we do.  The number of fake teeth one needs also affects the total price. Of course, if a person needs twelve teeth extracted, for instance, they will not pay the same as a person who will only need six teeth removed.  That is why the all on 4 dental implants cost varies from case to case.
For a less expensive option consider the implant supported dentures where we only need 2 implants to secure the prosthesis.  The average cost for the whole mouth is a better Clear Choice * alternative and only about $8-12k per arch.
All on 4 Dental Financing Options
Need full dental implants financing?  We have third party financing companies that help finance your needed dental work for as little as $200 a month.  LendingClub is the best to work with and they offer low interest payment plans so you can have your teeth today.
Our dental office is a premier member of Lending Club helping hundreds of patients pay for this type of treatment that could otherwise not afford to do this.  Lending Club can easily finance all-on-4 dental treatment for over $30,000 for upper and lower full jaw teeth replacement.
Does Dental Insurance Help Pay for All on 4?
Dental insurance does help cover the cost of this implant treatment.  Call us today at 301-424-2030 for a free consultation and accurate pricing for your particular case.  We also have cost of dental implants here.
What is the All on 4 Dental Implants Recovery Time
When having all the teeth removed and implants placed in your mouth there is undoubtedly going to be some healing.  Typically the soft tissue heals in a week or two.  There will be some discomfort for 2-3 days and some swelling for a few days, but as that passes you can enjoy more solid foods.
For the first few days try to eat just soft foods and shakes.  Dental implants full mouth cases are done in one surgery so after you heal the rest is easy.
The dental implant healing time does take a few months, but once the tissue heals you can begin chewing foods again.  For most patients we wait 3 months before making the final implant prosthesis.  In the meantime you will have all on four dentures to wear.  The dentures will look good, work for light chewing and fit comfortably.
Who is Best Qualified to do Tooth Implants?
You can go to multiple dental offices and see the oral surgeon, the periodontist and the general dentist and get bounced around from office to office.
But why do that when you can go to just one office and see one doctor who does all the treatment planning for your case, removes teeth, places the implants and makes the restorations!
Since Dr. Norkiewicz has placed and completed over 5000 dental implant cases he is the best implant doctor around that you can trust to perfect your new teeth.
We recommend going to the Clear Choice * dental locations and learning how our office is different and how we can offer you a better restoration at a better price.  You also best search for Clear Choice* reviews and compare them to our dental implant reviews.
Teeth In A Day
Can all the teeth be replaced in a day?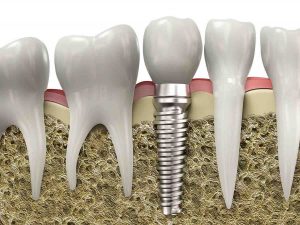 To understand them, you need first to understand what an implant is. A dental implant is a small screw inserted into your jawbone in the place where a tooth is missing and where your old root used to be.
Can you do dental implants in the same day and leave the office with new teeth?  Yes.  They are called same day dental implants.
Once multiple implants are placed, they are secure enough for teeth.  Immediate dental implants can be placed the same time the teeth are removed so you only have to go thru one surgery.
Dr. Norkiewicz will first place several implants strategically located across the jaw and anywhere between 4-6 implants to support the arch of teeth.  There is a slight difference between all on 4 and all on 6 dental implants.  Keep reading to learn more.
Once the implants are secured then a temporary row of teeth can be inserted the same day.  After 2-3 short months of healing a brand new permanent prosthesis can be fabricated and screwed into the implants.  The result is a permanent set of teeth that are stronger and better looking than your original teeth.  Also known as the clear choice technique.
If your bone structure is sound then Dr. Norkiewicz will perform the all on 6 dental implants over the all on four.  With 6 implants installed correctly the teeth have more support and are stronger especially for men that have stronger biting forces.  Some office only do all on 4, where we prefer to do all on 6 for many reasons.
All On 4 vs Traditional Dental Implants
One key difference between the traditional implants and all on four is that while the traditional implants require many single implants, sometimes up to 10 per arch, to support an entire arch.  The all on four use only 4 implants for the same space so the cost is significantly lowered.
Also, with traditional dental implants, the surgery is much more complicated, and it may take a lot of time for a person to heal and go back to eating normally.  They also feel like real teeth compared to wearing traditional dentures.
The all-on-4 also is easier to make requiring less appointments in the chair.  For traditional implants it could take 20 or more visits to fabricate the final restorations.  That's lots of hours of missed work and trips to the dental office.
With permanent teeth implants it can be made in as little as 3-5 one hour appointments and takes about 3 weeks til you get your new teeth.  Read here about the implant recovery process.
Benefits of All on 4

One of the biggest advantages of the all on 4, or also known as the hybridge dental implants, is that the patients get all their missing teeth fixed on the same day. Other benefits of implants include:
• Reduced cost. Compared to full arch restoration options, all on 4 offers a cheaper alternative.
• The surgery is minor in comparison and makes healing and recovery to be fast as well.
• This procedure includes all bone grafting which is done at the same time as placing the dental implants
How long do All on 4 Implants Last?
All on 4 treatment should last forever.  The teeth will not decay, never need root canals and should never break.  You do need to clean your teeth and visit the dentist regularly for teeth cleaning.  Read below on how to care for the all on 4.  The all on 4 treatment is meant to be permanent.
There can be all on 4 problems and only an all on 4 dentist is trained to handle those.
Am I a Good Candidate for All on Four?
If you especially suffer from teeth loss or you need to have all your teeth removed in the upper and lower jaws, this procedure may be the best choice for you. Not only are hybrid dental implants cost effective but they increase the oral health of patients by reducing the rate of dental issues like periodontitis or gum disease.
If for some reason you are not a candidate for all on 4 then dentures or snap on dentures would be your next best option.  There are many benefits to wearing dentures.
Additionally, people who also have experienced bone loss qualify for these implant restorations as well.  Also, since the procedure involves a minor surgery, it is best for people who are anxious about dental procedures.  Additionally either one arch or both arches can be completed at one time.  Get both upper and lower hybrid dental implants done at the same time.
What are the Alternatives to All on 4?

Many patients simply cannot afford to replace their teeth using this full arch dental implants method, let alone going to other national chains, which are more expensive.  There are really only two alternatives.
The next best treatment when missing all of your teeth is the Snap On Dentures.  When you compare the all on 4 vs. snap on dentures the price is significantly reduced.  That is because the teeth are easier to make, they are removable and made out of acrylic instead of Zirconia.
For those who cannot afford implants and want an alternative to dental implants then regular old dentures are the only other alternative.
Full arch dental implants are for people who have the means to spend $30-$60K or who can get financing for dental implants.  The snap in implant supported dentures are a cheaper dental implants alternative to the hybrid dental implants and run about $15k-$25k.
How to Clean All on 4 Dental Implants
The best way to clean All on 4 Dental Implants is with a toothbrush and a waterpik.
We recommend you brush your teeth for 2 minutes twice a day with a Soniccare toothbrush.  The waterpik is best used in the shower and can rinse all the debris from underneath the All on 4 prosthesis so you don't develop a calculus bridge.
If you need help on how to clean dental implants then visit your dentist and have them review properly cleaning methods with you.
In addition the All on 4 should be removed by a dentist once every 2 years for properly cleaning and re-polishing.  Full arch dental implants are more or less maintenance free.
Conclusion about the All on Four Procedure
You may be thoroughly confused after reading this whole page, but All on-4 dental implant offers a great solution to people suffering from multiple missing teeth, severe periodontal disease and other dental problems in their whole mouth.
But like any other treatment, there are side effects which may occur. Be sure to ask your implant dentist about any side effects. However, the adverse effects are manageable.
If you are thinking of getting these full mouth dental implant restorations, we advise that you first consult with Dr. Dennis Norkiewicz first.
We are conveniently located in Rockville, MD, very close to Columbia MD.  You can request an appointment online or call us at 301-424-2030 or text us at 301-424-2030 for an immediate response.
Schedule Your Own Personal Consultation Now
Please select service, date and provider then click on the Find Appointments button.
Serving patients in Rockville, Potomac, Bethesda, Gaithersburg, Olney, Germantown, Aspen Hill, Frederick, Derwood, North Potomac, Silver Spring and Washington DC
* We recognize that ClearChoice is a federally registered trademark
Sources