Full mouth dental implants provide a more permanent solution for missing teeth compared to conventional dentures.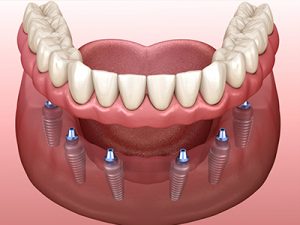 They are anchored into the jawbone, just like natural teeth, and become a permanent part of the mouth. This makes them more stable and comfortable, allowing patients to eat, speak, and chew with confidence. And because they are made of durable materials, full mouth dental implants can last a lifetime with proper care and maintenance.
What are the Benefits of Full Mouth Dental Implants?
Full arch dental implants have several benefits compared to traditional methods of tooth replacement. Some of these benefits include:
Preservation of Bone Structure: When teeth are lost, the jawbone begins to deteriorate, leading to changes in the facial structure. Full arch dental implants help to preserve the bone structure by providing the same support as natural teeth roots, stimulating the bone within the jaw and preventing further bone loss.
Preservation of Adjacent Teeth: Full arch dental implants prevent shifting of the remaining natural teeth or opposing teeth and misalignment problems, saving the wear and tear on adjacent natural teeth as they do not need to perform the double-duty of supporting bite pressure of the artificial denture and bridge.
Higher Success Rate: Full arch dental implants have a higher success rate compared to dentures or bridges. With proper oral hygiene, they can last up to 25 to 30 years.
Natural-Looking: Full dental implants have a completely natural look and people are usually not able to tell the difference. They also maintain a natural facial appearance during the restoration process, giving the patient a beautiful smile.
Suitable for People with Parafunctional Habits: Full arch implants are more durable than regular implants and are thus more suitable for people with parafunctional habits like clenching of teeth or bruxism which can take a toll on regular implants and natural teeth alike, causing the teeth to develop cracks or get weak.
Ideal for Missing Multiple Teeth: Full mouth implants are the best choice for people who have multiple teeth missing. They provide a long-lasting solution that needs zero maintenance and require fewer visits than traditional methods of replacing every single tooth.
Why Choose Rockville Dental Arts for Your Implant Teeth?
Our team of highly trained doctors and specialists work together to provide top-notch treatment for our patients. We believe in direct communication between the doctor, oral surgeon, and lab technician, as it enables us to deliver a superior patient experience. To maintain our strict standards of quality, each doctor goes through a rigorous screening process. We seek out experienced and exceptional doctors who are dedicated to providing the best possible care. Our committed team of professionals, who specialize in dental implants, is one of the key strengths of choosing Rockville Dental Arts.
Transparent Cost
In the past, it was challenging to determine the complete cost of dental implant procedures as different specialists charged different fees at each stage of the process. However, at Rockville Dental Arts, our doctors, technicians, and labs are all located on-site, allowing us to provide a single, comprehensive price for the entire procedure from start to finish. There are no surprises or hidden fees, and after your consultation, you'll know precisely what your dental implant treatment will cost.
Convenient Location
Typically, successful dental implant treatment necessitates numerous appointments with specialists in various locations, and teeth are made at an off-site lab and transported to the clinic. If any adjustments are required, the teeth must be sent back to the lab. At Rockville Dental Arts, we have combined all of the essential components for successful dental implant treatment in a single location. Your consultation, lab work, teeth creation, procedure, and recovery all occur at one center, making it more convenient for you.
Is the Dental Implants Procedure Painful?
At Rockville Dental Arts, our doctors strive to provide the most comfortable experience possible for our patients. Depending on the type of dental implant procedure, you can opt for various pain management options. Afterward, many of our patients report experiencing less pain than anticipated.
Am I Still a Candidate for Dental Implants if My Teeth are in Poor Condition?
Based on our experience, the majority of individuals can safely receive dental implants. Age is not always a factor when it comes to determining dental implant placement. Whether you are missing one tooth or several, dental implants could be the optimal solution for you. Additionally, at Rockville Dental Arts, our doctors are skilled in treating patients with complicated cases, even those who may have been turned away by other providers. The best way to determine if you are a candidate is to schedule a free consultation with us.
Will My Smile Look Natural with Dental Implants?
Surprisingly, dental implants actually become a natural part of your mouth as they bond to the jawbone, similar to real teeth. You can brush, floss, eat, and smile as if you have had these teeth your whole life. Our master lab technicians can work with you to select the shape, color, and size of your teeth to ensure they look completely natural. You can feel confident that your dental implants will be indistinguishable from your real teeth.