Are you looking for a prosthodontist who can help restore your smile and improve your oral health?
With so many options available, it can be challenging to find the perfect fit. This comprehensive guide will walk you through the steps to discover the best "prosthodontists near me", understand essential prosthodontic treatments, and learn the importance of board certification.
Get ready to embark on your journey towards a brighter, healthier smile.
Key Takeaways
Find a qualified prosthodontist in your area to address complex oral health issues and restore your smile.
Utilize online directories, reviews, referrals from general dentists and family/friends for dependable care.
Prosthodontic treatments such as dental implants, full mouth reconstruction and customized dentures require board certification. Verify credentials with reputable organizations before seeking care.
Discovering Top Prosthodontists in Your Area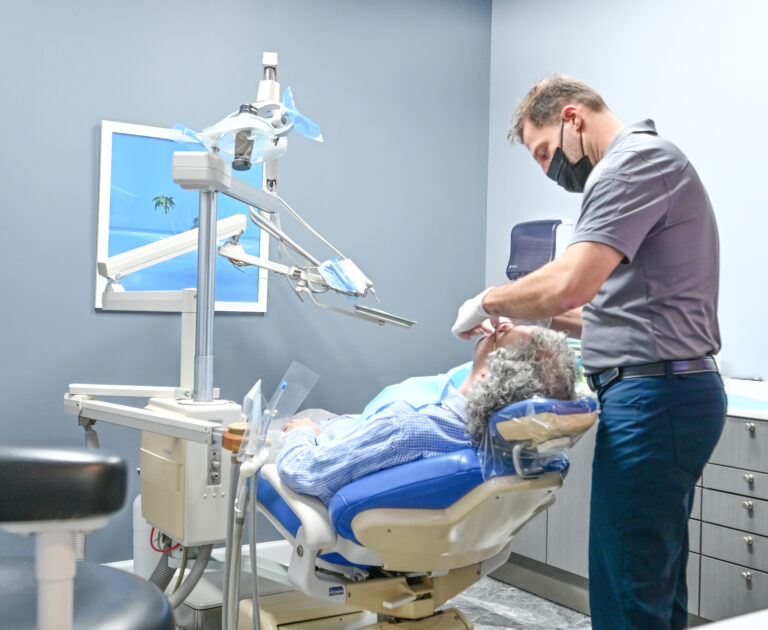 Addressing complex oral health issues and restoring your smile necessitates locating the best prosthodontist in the DMV area. As a dental specialty, prosthodontists possess advanced training and expertise in procedures for replacing missing teeth and enhancing oral function.
In light of an estimated 120 million Americans having at least one missing tooth or a false tooth, addressing even minor oral health issues promptly is critical in preventing further complications, including oral cancer, within the oral cavity.
Utilizing Online Directories and Reviews
Online directories such as Healthgrades, Zocdoc, and ADA Find-a-Dentist (American Dental Association) are valuable resources for identifying highly qualified prosthodontists in your vicinity. Refining your search results based on criteria such as location and specialty eases the process of finding the appropriate dental professional for your needs.
Patient reviews and testimonials are equally important in the decision-making process. They offer insights into the quality of care provided by a prosthodontist, including expertise in creating artificial teeth. Reviewing a prosthodontist's website for board certification, consulting their state dental board website, and seeking references from former patients are effective ways to confirm their qualifications.
Seeking Referrals from General Dentists
Referrals to trusted prosthodontic specialists can be obtained from your general dentist, who is a reliable source. Dentists often have professional networks and can recommend prosthodontists experienced in removable partial dentures and other treatments to suit your needs. Seeking referrals from friends, family, or colleagues who have undergone prosthodontic treatment such as complete dentures can also lead you to a dependable prosthodontist.
Online directories, such as those mentioned in section 1.1, often provide ratings and reviews from patients, which can further assist you in making an informed decision. Additionally, contacting your dental insurance provider can help you identify prosthodontists who are covered under your plan and specialize in treatments like complete dentures.
Expanding your search can be achieved by attending dental conferences, seminars, or even dental school events where opportunities to network with general dentists and prosthodontists and receive referrals are plentiful.
Essential Prosthodontic Treatments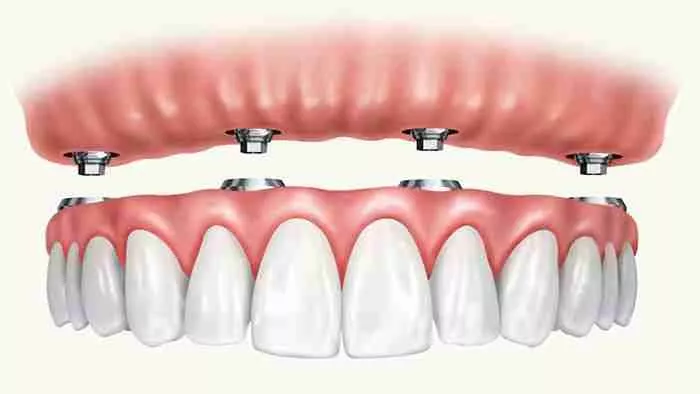 Prosthodontists specialize in essential treatments that restore and replace natural teeth, enhancing both the appearance and function of your smile. These treatments include dental implants for missing teeth, full mouth reconstruction, and customized dentures.
Being aware of the various treatments available paves the way to make an informed decision about the right procedure for you.
Dental Implants for Missing Teeth
Dental implants offer a durable and long-lasting solution for replacing missing teeth. The implant itself is a screw designed to be inserted into the jawbone, acting as a substitute for a natural tooth root. The crown, which is the visible part of the tooth, is then attached to the implant.
Unlike dental bridges, which rely on adjacent teeth for support, dental implants are anchored directly into the bone, providing improved stability and function. This makes them an ideal option for those looking to restore their smile and enhance their overall oral health.
Full Mouth Reconstruction
Full mouth reconstruction is a comprehensive dental treatment that involves restoring or replacing all the teeth in both the upper and lower jaws. This treatment is typically utilized to address various dental issues, including:
Missing teeth
Damaged teeth
Bite problems
Gum disease
Full mouth reconstruction plans may involve a combination of procedures such as:
Dental implants
Crowns
Bridges
Veneers
Gum treatments
The objective of full mouth reconstruction is to enhance the function, appearance, and general well-being of the mouth.
The specialized training and experience of a qualified prosthodontist, which guarantees the highest quality of care, makes it essential to seek their services for this treatment.
Customized Dentures
Customized dentures are an excellent option for those looking to replace multiple missing teeth comfortably and naturally. Unlike regular dentures, which are mass-produced and may not provide the same level of fit, customized dentures are tailored to the individual's mouth, ensuring an improved appearance, functionality, and durability. Complete dentures replace multiple missing teeth, offering a more personalized solution for those in need of replacement teeth.
The process for obtaining customized dentures typically involves taking impressions of the patient's mouth, constructing a wax model, and then fabricating the dentures to match the individual's unique oral structure. Customized dentures provide a tailored treatment that enhances both the appearance and function of your smile.
Importance of Board Certification
When selecting a prosthodontist for your specialized dental care, their board certification is a key factor to consider. It guarantees that the prosthodontist has the necessary training and expertise to deliver the highest quality of care for their patients.
Opting for a board-certified prosthodontist means choosing a professional who has met the stringent criteria set by the board and undergone specialized education and training.
Verifying Credentials
To verify the credentials of a prosthodontist, you can:
Consult reputable dental organizations such as the American College of Prosthodontists.
Confirm that your dentist is a board-certified prosthodontist by visiting the American Board of Prosthodontics website.
The website has the necessary information to make an informed decision.
Another way to verify the qualifications of a prosthodontist is to seek referrals from your dentist or healthcare provider. They can recommend trusted prosthodontists and validate their qualifications. Additionally, reading reviews and testimonials from past patients can give you insights into their experiences and the quality of care provided by the prosthodontist.
Cost Considerations for Prosthodontic Treatments
The cost of prosthodontic treatments can vary significantly depending on various factors, such as:
The type of prosthesis
The complexity of the treatment
The materials used
The expertise of the prosthodontist
The location of the dental practice
Exploring all available financial assistance options and consulting a prosthodontist for an accurate estimate of your specific treatment needs, ensures you receive the best possible care at a price within your budget.
Medicaid and Prosthodontic Care
Some states may offer Medicaid coverage for prosthodontic care, such as dentures and dental implants. To determine if the treatment you need is covered, you can:
Contact the number printed on the back of your Medicaid card.
Consult your state's Medicaid program or dental provider for specific coverage details.
Call 866-383-0748 to locate a prosthodontist in your area who accepts Medicaid.
Verifying the board certification of your chosen prosthodontist is a crucial step, irrespective of whether they accept Medicaid or not. Board certification ensures that the prosthodontist possesses a superior degree of knowledge and expertise in the field and has completed additional training and passed stringent examinations.
Maintaining Your Restored Smile
Maintaining your restored smile with regular dental check-ups and proper oral hygiene is vital once you've achieved it. Here are some steps to follow:
Regular dentist visits are essential for detecting any signs of decay or damage and ensuring that your restoration is still in optimal condition.
Practice good oral hygiene, including brushing your teeth twice a day, flossing daily, and using mouthwash.
Avoid foods and drinks high in sugar or artificial dyes, as they can contribute to tooth decay.
Quit smoking, as it can stain your teeth and increase the risk of oral health problems.
Wear a mouthguard during physical activities to protect your teeth from injury.
Follow any specific care instructions provided by your dentist to preserve your restored smile.
In addition to these practices, abstaining from foods and beverages that are acidic or can stain your teeth will keep your smile looking its best. Taking these precautions and adhering to your dental professionals' advice will ensure the longevity of your beautiful, restored smile.
Summary
In conclusion, finding the best prosthodontist in your area, understanding essential prosthodontic treatments, and learning the importance of board certification are crucial steps in your journey towards a healthier, more radiant smile.
By utilizing online directories, seeking referrals, and researching financial assistance options, you can make an informed decision about which prosthodontist and treatment plan are right for you. Remember to maintain your restored smile with proper oral hygiene and regular dental check-ups, ensuring a lifetime of beautiful smiles.
Frequently Asked Questions
What is the difference between a dentist and an prosthodontics?
A prosthodontist specializes in replacing and restoring teeth, while a general dentist focuses on repairing and maintaining healthy teeth.
What is the disadvantage of prosthodontics?
Prosthodontics is intended to protect and restore natural dentition, but every operative procedure does cause some amount of visible and invisible damage to the tooth. Deep filling, crown or veneer preparations can also irritate the nerve of the tooth.
Can prosthodontist do tooth extraction?
Yes, prosthodontists can do tooth extraction when a tooth is severely damaged, there is periodontal (gum) disease, or it is needed to prepare the mouth for restorative treatments such as implants or dentures. Prosthodontists are highly trained specialists who can provide a variety of treatments to restore the function and aesthetics of your teeth. They are experts in the field of prosthodontics, which includes the diagnosis, treatment planning, rehabilitation, and maintenance of the oral function, comfort, appearance, and health of patients with missing
Why should I see a prosthodontist?
Seeing a prosthodontist will help you maintain the health of your current teeth as well as give you a beautiful, bright smile. Their expertise in cosmetic dentistry is second to none and can provide you with the perfect dental transformation.
What makes a good prosthodontist?
A good prosthodontist specializes in the aesthetic restoration and replacement of teeth, has received 3 to 4 years of additional training after dental school, and is extensively trained in state-of-the-art techniques and procedures for treating complex conditions. With their rigorous training and experience, prosthodontists are able to restore optimal appearance and function to a patient's smile.
Our Advanced Prosthodontist – Dr. James Linkous
Dr. James Linkous achieved his Doctor of Dental Surgery degree from the University of Pennsylvania School of Dental Medicine. He furthered his expertise through prosthodontic residency training at the Naval Postgraduate Dental School at Walter Reed National Military Medical Center in Bethesda, Maryland.
Dr. Linkous holds a master's degree in oral biology from the Uniformed Services University. His advanced training encompasses hundreds of hours in advanced cosmetic dentistry, ceramic science, adhesive dentistry, implant therapy, and sleep dentistry, addressing complex dental conditions.
He's a member of the American Dental Association, a Diplomate of the American Board of Prosthodontics, a fellow of the American College of Prosthodontists, and a member of multiple esteemed dental organizations. His contributions extend to the United States Navy's Surgeon General Assessment Cell, enhancing the field.
With an unwavering passion, Dr. Linkous aims to enhance patients' lives by leveraging dentistry's potential. If you're seeking a Doctor of Dental Surgery specializing in prosthodontics, you've found a top-tier professional in the DMV area.
Dr. Linkous serves Rockville, MD, as a prosthodontist, attracting patients from Bethesda, Potomac, Gaithersburg, Germantown, Frederick, and beyond. His expertise encompasses Rockville, Gaithersburg, Bethesda, Potomac, and Silver Spring.
Please select service, date and provider then click on the Find Appointments button.