Here are details on the All-on-4 dental implant procedure and what patients can expect during each stage of the process.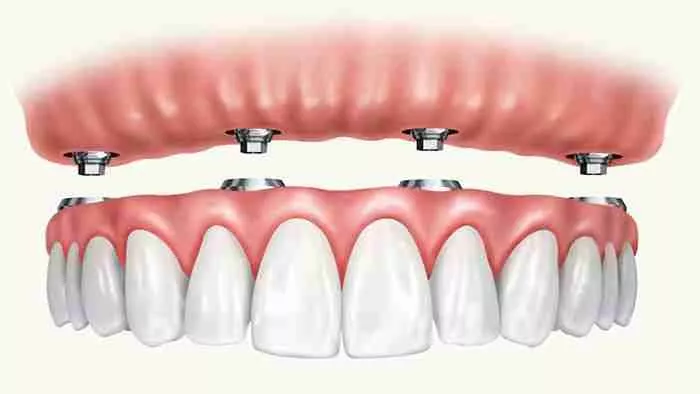 The All-on-4 dental implant procedure is a popular and effective solution for patients who have lost most or all of their teeth and want to restore their smile, oral function, and quality of life. This technique involves placing four dental implants (or more) in the jawbone, which are used to support a full arch of replacement teeth.
Unlike traditional implant-supported dentures, the All-on-4 procedure uses fewer implants and can often be completed in a single day, allowing patients to leave the office with a new set of teeth.
The Process of Getting Full Mouth Dental Implants
Here is a more detailed breakdown of what patients can expect during each stage of the All-on-4 dental implant process:
Consultation:
The first step in the All-on-4 process is an initial consultation with a dental implant specialist. During this appointment, the dentist will evaluate the patient's dental health, take x-rays and impressions of the teeth, and discuss the patient's treatment goals and expectations. They will also review the patient's medical history to ensure they are a good candidate for dental implant surgery. If the dentist determines that the patient is a good candidate for the All-on-4 procedure, they will proceed with pre-operative planning.
Pre-operative planning:
To ensure the best possible outcome for the All-on-4 procedure, the dentist will use advanced imaging technology to create a detailed 3D map of the patient's mouth and jawbone. This may involve taking CT scans or using computer-guided surgery to create a precise surgical guide. Using this information, the dentist will design a customized treatment plan that outlines the placement of the dental implants and the shape and size of the replacement teeth.
Surgery:
The All-on-4 procedure typically takes about 1-2 hours per arch and can be performed under local anesthesia or sedation, depending on the patient's needs and preferences. During the surgery, the dentist will place four dental implants in strategic locations in the jawbone. They will then attach a temporary set of replacement teeth to the implants, which the patient will wear while their implants heal and integrate with the jawbone.
Follow-up appointments:
After the All-on-4 surgery, the patient will need to return to the dentist for several follow-up appointments over the next few months. During these visits, the dentist will monitor the healing process and make any necessary adjustments to the temporary replacement teeth. They may also provide the patient with instructions on how to care for their implants and maintain good oral hygiene.
Final restoration:
Once the dental implants have fully healed and integrated with the jawbone (usually about 4-6 months after surgery), the patient will receive their final set of replacement teeth. These teeth will be custom-designed to fit the patient's mouth and complement their facial features, and can be made from a variety of materials, such as porcelain or acrylic.
Why Choose Rockville Dental Arts?
Overall, the All-on-4 dental implant procedure is a complex and multi-stage process that requires careful planning, precise surgical techniques, and ongoing follow-up care. However, for patients who have lost most or all of their teeth, it can offer a long-lasting and durable solution that can improve their oral health, function, and quality of life.
If you are considering the All-on-4 procedure, it is important to consult with a qualified dental implant specialist who can evaluate your needs and develop a treatment plan that is right for you.
When considering All-on-4 dental implants, it's important to choose a provider who has experience and expertise in this procedure. Look for a dental implant specialist who has a proven track record of successful All-on-4 cases and who uses advanced technology and techniques to ensure optimal outcomes.
Additionally, consider the provider's overall approach to patient care. You want a provider who will take the time to listen to your needs and concerns, explain the procedure in detail, and develop a personalized treatment plan that is tailored to your unique situation.
Finally, consider the provider's reputation and patient reviews. Look for testimonials or reviews from other patients who have undergone All-on-4 treatment with the provider you are considering. This can give you a sense of the provider's level of expertise, professionalism, and patient satisfaction.  You may also want to check out All on Four Before and After Photos.
Ultimately, the decision of which provider to choose for All-on-4 dental implants is a personal one that depends on your individual needs and preferences. It's important to do your research and choose a provider who you feel comfortable with and confident in.