This post is also available in: Español (Spanish)
Dentures in Maryland
Dentures Rockville MD, Aspen Hill, & North Bethesda, MD
Loose or Broken Teeth?
There are so many different reasons why dental dentures may be needed. Some people lose their teeth due to genetic disorders, malnutrition, diseases, neglect, and a whole host of other problems. No matter what, living without teeth can be very difficult. Not only will this affect self-confidence and cause you to never want to smile, but it also damages your bite, makes it hard to eat and digest food, causes pain, and can even lead to deterioration of the jaw bones.  Now you with Rockville Dental Arts you can put your transformations within reach!   All our prosthesis are individually made for each patient.  Part of our mission is to exceed the expectations of each and every patient and for your convenience we have posted our patient forms online.
For patients in the Rockville Maryland or Washington DC area, the good news is that there are options even if teeth are missing or are in very bad shape. Thanks to a variety of different denture types, you can restore your smile and enjoy better function too.  With brand new teeth you will feel like you just drove off in a Mercedes Benz and your self esteem will go thru the roof!  Read the Rockville Dental Arts blog here.
Here at Rockville Dental Arts, we believe in providing you the best possible options available. When you see our dentists, especially Dr. Norkiewicz, we will evaluate your current tooth and mouth condition to determine which solutions will be best for you.  Oftentimes there are several options to treatment and our doctors will sit down with you and review their findings and discuss your goals and options with you.  Our affordable dentures are individually process and will be comfortable, look beautiful and not break the bank!  Depending on the treatment additional charges may increase depending on the use of bone grafting material or dental implants.
FREE CONSULTS – CALL 301-424-2030
Partial Denture
A partial denture is used if you do have some salvageable teeth. These partials will only take the place of the teeth that have been lost or removed. They rest on the remaining teeth to provide stability to chewing.  They are removable for cleaning, but we work very hard to ensure they look natural too.  Typically for patients who have lost 4-8 teeth in an arch.  For those who have lost only 1-3 teeth, we recommend dental implants, not dentures.
Full Completes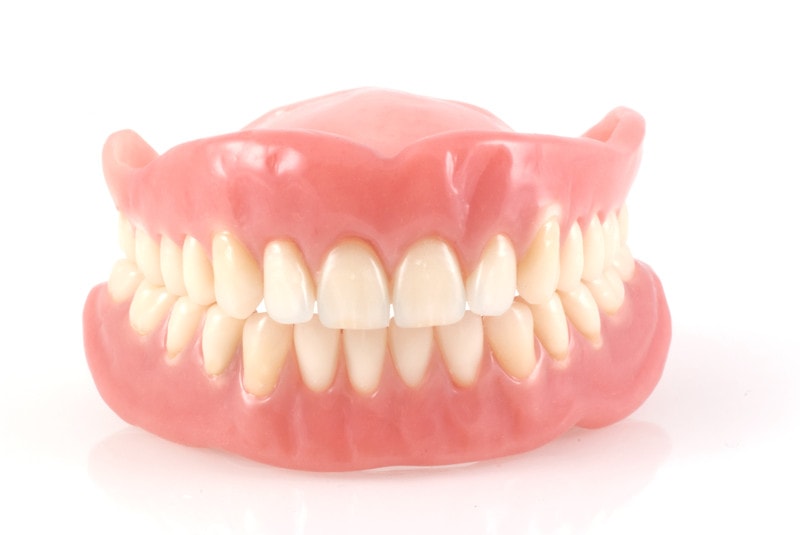 If all of your teeth are damaged or deteriorated, then Dr. Norkiewicz will recommend full complete dentures. This means complete removal of all teeth and full replacement. Here at Rockville Dental Arts, we know the problems that can come along with any denture, including discomfort, and we do our best to rectify those. That's why we usually recommend dental implant dentures. This means we will replace key teeth with dental implants, which are permanent and are affixed to the bone. Then, these implant supported dentures can be affixed to those implants to give you a full set of very natural looking teeth with incredible support.  Implant dentures are removable but "snap" in for a secure fit.  No more worrying about the full denture moving around or falling out.
Fixed Denture
Our fixed denture options are often considered because they provide you with a more permanent solution. Some people don't like new dentures because they must be taken out to be cleaned, they move around in your mouth and have extra material that make them feel bulky, but fixed dentures stay in place all the time and you can care for them just as you would your teeth.  Fixed dentures are slim and made of metal like substances and porcelain to make them strong and look phenomenal.   Typically at least 4 and up to 8 dental implants must be used on each arch.  This concept is also known as the All on 4 technique.  Dr. Norkiewicz has been performing this procedure for several years with great success.
Snap on Teeth
By far our most popular solution to missing teeth!  90% of our patients choose to go with snap on dentures.  With just two implant fixtures on each arch the dentures will snap on and not move or fall out.  They are also very easy to unsnap at night when you take them out.  The only maintenance with these snapping dentures is the plastic snaps wear out about once a year and need to be replaced.  Otherwise they are secured in your mouth with a super tight fit!

Immediate Denture
If you must have all your teeth removed, then this is a process that can take several months to complete, and your mouth will need time to recover and heal. During that time, you shouldn't go without teeth, though. That's why Dr. Norkiewicz will often suggest immediate dentures. While these are not a permanent solution, they do give you temporary benefit of being able to continue your life while you wait on your actual, personalized and fitted dentures to arrive.  Immediate dentures are very affordable dentures and often stay in for up to a year.  Once the gums have fully healed then the permanent dentures can be made.  The immediate dentures then become a back up set for the patient.  Read more about temporary vs. permanent dentures here.
Denture Repair Rockville MD
At Rockville Dental Arts we have an in house denture lab that can fix most denture problems on site within an hour!  If a tooth has fallen off your fake teeth or the denture is cracked in half it can be completely repaired using the same material, acrylic, that your plate is made out of, however the exact color may vary.  Within an hour we can have you out the door and smiling and chewing with your fake teeth again.  Occasionally there are instances where the denture repair is too complicated for our doctors and we will need to send it to a full denture lab with a experienced technician.  Usually we won't know until we see the denture that needs repair.  Turn around is often only a day or two.
If you need a denture repair Rockville MD contact us immediately so we can assess the situation and get you back to chewing and looking good in no time!
Most Common Problems that we can Fix
Denture cracked in half
Tooth broke off denture
Denture crack but not broken in half (as pictured)
Lost denture
Denture does not snap on implants anymore
Sharp edge on denture
Sore spot on gum from Denture
Other common denture problems
Other Dental Services
Contact Rockville Dental Arts
Here at Rockville Dental Arts, we know how important your smile is and teeth are. Lack of teeth can lead to speech problems, eating problems, and definitely self-confidence problems. That's why we offer all affordable denture options. And, we even provide expedited service when needed. If you need your denture in a hurry, we work with our lab to get them to you in as little as just two days.  Our lab is local and they make only the best top quality teeth in Maryland.  We use only premium teeth with premium quality acrylic and we can even choose the gum color.
At Rockville Dental Arts, our Maryland affordable dentures implants offers several styles of full plates each with special features and advantages.  Prior to your appointment we can discuss all fees and answer your question about a particular style.  We accept most dental insurance plans to help cover your treatment.  When you come in to our dental office, we will view all fees and the treatment required and go over the length of treatment.  To save time prior to your appointment  you can download and fill out our patient forms here.
If you are ready to discuss your missing teeth options with Dr. Norkiewicz in the Rockville area, then contact us today at 301-424-2030 or fill out our contact form. Rockville Dental Arts staff are waiting to talk to you.
Learn more about the benefits of dentures and the solution for loose or broken dentures by reading our blog and other pages.
Book a Consultation
Please select service, date and provider then click on the Find Appointments button.