T
he world has seen a lot of technological advances in the past century, and the dental field is no exception.
Not only is tooth replacement possible, it's readily available to you through the convenience of dental implants.
Easily Replace Missing Teeth With Dental Implants
At Rockville Dental Arts, we have the training, resources, expertise and 20 year track record to successfully restore your winning smile.
We first, however, have to determine whether dental implants are appropriate for you, and if so, what type of implant will be best.
Who needs Dental Implants?
In general, if you're someone who has lost one, a few or even all of your teeth, you're likely a great candidate for dental implants.
From high-contact sports like football, rugby and hockey to freak accidents that knocked out a molar or bicuspid, there are dozens of reasons as to why one or multiple teeth might fall out.
Periodontal disease, which is a disease that attacks the structure of the jawbone, is another potential cause. A missing tooth (or several missing teeth!) not only makes it more difficult to chew and can leave your mouth feeling off, but may also lead you to be reluctant to smile or be worried about people's reactions when you do.
Their opinion doesn't really don't matter; the only important one is your own. But with dental implants, your new found self-confidence will have you smiling on the outside as well as the inside.
Replacement Options
Just as the reasons for replacement teeth run the gamut, there are several potential dental care solutions.
Some patients opt for dentures, while others view dental bridges as their best bet. Any one of these options may be correct, but you can't really know for sure until you see someone who specializes in oral health.
Dr. Dennis Norkiewicz is a veneer engineer and is uniquely qualified to assess the state of your teeth and offer a recommendation as to whether an implant, implant-supported bridge or something else entirely is the appropriate solution for you. Much of the determination will depend on your overall oral health and the positioning of your missing teeth.
In terms of pain, as with any oral surgery, you may encounter mild discomfort after getting dental implants, but we take steps to ensure that the process and recovery is as smooth and soreness free as humanly possible. The most common aftereffects of a dental implant surgery include: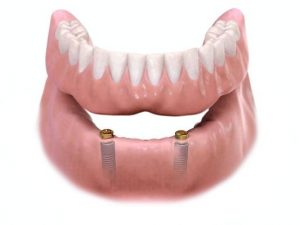 Swelling of the gums and face (usually only moderate)

Slight bruising of the skin and/or gums

Minimal bleeding

Trouble with chewing or biting down

Slight discomfort at the implant site
Finally, while a dental implant is a surgical procedure, it's not as invasive or significant as you might imagine. In other words, it's not a root canal. If you've ever had a filling or a crown, either is probably the nearest equivalent to what it will feel like while you're in the chair.

Call, Text or Complete Contact Form to get a Free Consultation & 3D Xray
Dental Implants For The Whole Mouth

For example, one of the more common surgeries we perform is the all-on-four implantation method. This procedure involves inserting four (sometimes six) titanium implants into the upper and lower jawbones.
We break down this procedure into visits, usually no more than seven that are scheduled over several months. The first one typically involves the preparatory aspects of the process, such as taking impressions as well as X-rays. The second visit is where most of the action happens. Depending on how many implants are needed, the work may be finished in 20 minutes or less.
But your replacement teeth won't be installed until the last visit, which is typically a few months after the first visit. Trust us when we tell you that the time in between is very important, as it allows your gums to fully recover and ensures that all the necessary measurements and adjustments are taken care of fully. Like delicious food or a fine wine, great teeth take time. But the wait will be well worth it.
So you may be wondering about the upshot of dental implants. What are their primary advantages? The pluses are more numerous than you can possibly imagine. They include:
1. Enhanced self-confidence
Let's face it: The first thing people often look at when coming into contact with others is their smile. But you may be bashful about doing so if you're not confident about how your teeth appear. With a single tooth implant or all-on-four — two types of dental implant procedures — you can rekindle that self-assurance in yourself and bare those beautiful teeth for all to see. Revitalized self-confidence is truly priceless.
2. Replacement teeth blend in seamlessly
The spot where a tooth becomes loose can affect the degree to which its absence changes your appearance. Losing a tooth in the front is obviously more noticeable than in the back, but a missing molar may have a greater effect from an overall feel and function perspective. Some also may worry that artificial teeth will look noticeably different than their original teeth.
This should be the least of your concerns when choosing Rockville Dental Arts. Dr. Norkiewicz has a keen eye for detail and will be sure to design your replacement tooth so it resembles all the rest in shading, spacing and structure. It will be almost as if whatever caused your tooth to come loose never even happened.
3. Often life-long

One question that we get asked quite a bit is how long will a dental implant last? Truth be told, longer than you might anticipate.
When performed by a qualified implant specialist, dental implants are forever. In short, they last as long as you do. Rest assured that Dr. Norkiewicz is so qualified and will provide you with the in-chair care to properly fit the implant and provide the tips on what daily proper dental care to do on your own to ensure they remain healthy.
4. Easier adjustment for smooth eating and talking
Anyone who uses removable dentures can likely attest to the fact that some are pretty clumsy when it comes to eating and drinking. Dentures that aren't properly fitted can shift, slide and even fall out, making for a rather awkward moment whether you're dining with family and friends or even if you're all alone.
Implants solve these issues by virtue of the fact that they're stronger than dentures, so they're naturally more resistant to moving. This makes them a better fit for talking, eating or drinking from either a glass or straw.
5. Help prevent bone loss
You don't just lose teeth due to periodontal disease or some other oral health issue; you can also experience bone loss. Teeth provide ongoing stimulation to your jawbone, but when one or several fall out and nothing is put in their stead, deterioration can set in. The longer the space goes unfilled, the greater the degree of bone loss, with reduction of up to 25% within the first year.
Dental implants do more than fill in the gap. They also restore the stimulation your jawbone requires to remain resilient and durable, by replacing the tooth as well as the root holding the tooth in place.
6. Numerous options

Not only are there various methods for replacing teeth — removable dentures, bridges, implants and more — there are also a variety of implants to choose from, including snap-in, tooth-supported bridges and partials.
If you're missing all of your teeth – which is true of an estimated 36 million Americans, according to the American College of Prosthodontists — a fixed-hybrid denture may be right for you. Here, the denture stays in place by attaching onto the implants themselves. Unlike their snap-in counterparts, which are for removable dentures, fixed implants are permanent, making them easier to care for in terms of regular brushing and flossing.
Bottom line: You have plenty of choices when getting implants. Dr. Norkiewicz implements full-mouth implants regularly, and after an initial consultation, he and his team will be able to tell you if oral surgery is appropriate.
We Do It All
Perhaps most important of all, Rockville Dental Arts performs the procedure in its entirety, from extraction and implantation to any necessary aftercare. We're a one-stop shop for all your oral hygiene needs, conveniently located in Rockville, Maryland, a mere half-hour's drive from the nation's capital.
What is the Dental Implant Procedure Like?
Many people all over the country are scared of going to the dentist. There's actually a diagnosed condition for it, called dentophobia. This fear largely derives from patients not knowing what to expect, along with the trepidation that their procedure — from something as simple as a cleaning to something more involved like maxillofacial surgery — will be painful.
Our mission at Rockville Dental Arts is to demystify and destigmatize dentist visits through full transparency. When you come in to see us for a consult regarding the dental implant surgery, we'll tell you exactly what you can expect if you're considered a good candidate for a specific type of implant.
What type of Maintenance do Dental Implants require?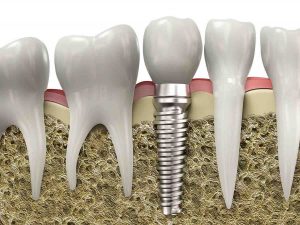 Again, dental implants are designed to last a lifetime. Much like real teeth, how long they stay in great shape largely hinges on how consistent and fastidious you are about keeping them white and bright. Oral hygiene matters, even with artificial teeth.
How do you do it? Proper dental care for implants or dentures isn't a big mystery; it's as straightforward as daily brushing and flossing. With fixed implants, you can brush your teeth while they're in your mouth. With snap-ins, you simply remove them and can clean them while looking straight at them, instead of in the mirror. This can help you get all those hard-to-reach places, thereby reducing plaque buildup.
However, not all tooth-treatment tools are built the same. For example, interdental brushes are clinically proven to safely and comprehensively remove stubborn plaque from braces, crowns, bridges and implants. It's also recommended that you have your teeth cleaned professionally by your dentist on an annual basis, ideally two times per year. Regular dentist visits not only help eliminate plaque that you may have missed, but also allow your dentist and their team to make on-the-spot recommendations on how to keep your teeth looking as close to as brilliantly white as the day you first got them.
Can food become stuck or lodged into dental implants?
If there is one thing you take away from dental implants, it's this: They're about as close as you can get to your actual teeth, even though they may be artificial.
So yes, food can latch onto them, usually the same ones that tend to adhere to natural teeth (e.g. rice, cold cereal, pesto, breads, crackers, popcorn kernels, meats, spinach, seeds). This means that the same things you would have done to clean your real teeth you can also do with implants, whether it's chewing sugar-free gum, avoiding excessively chewy foods (e.g. candy, caramels, lollipops) and of course regular brushing and flossing.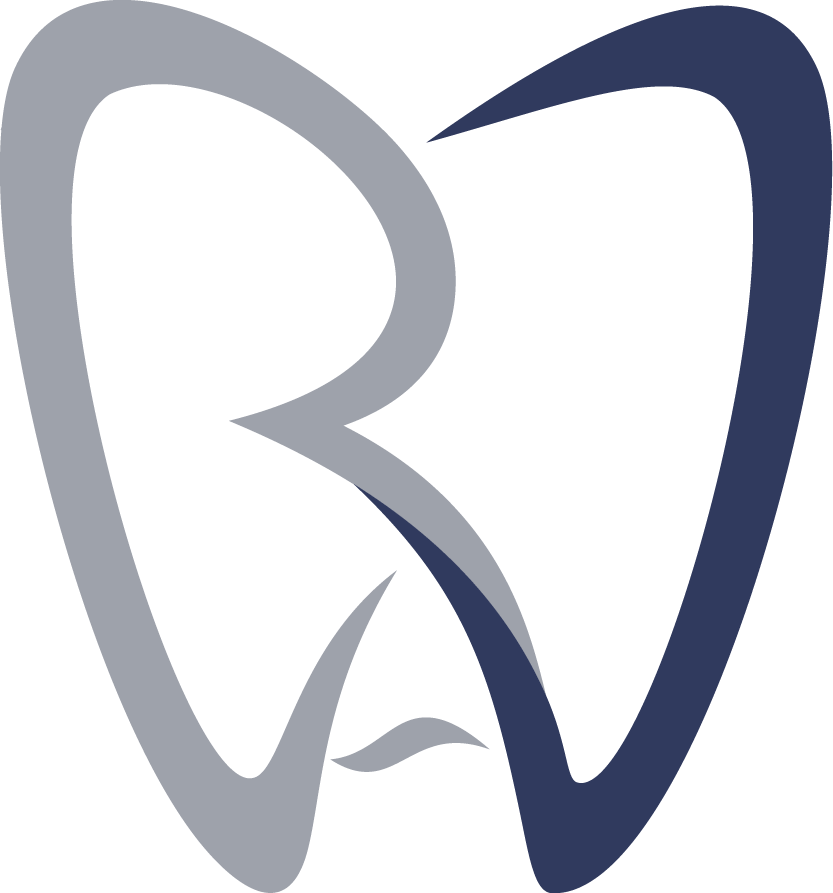 At Rockville Dental Arts, terrific teeth is our passion and we've been helping our patients maintain or get theirs for over 25 years and counting. Schedule your appointment today and see what everyone is smiling about.
Serving patients in Rockville, Potomac, Bethesda, Gaithersburg, Olney, Germantown, Aspen Hill, Frederick, Derwood, North Potomac, Silver Spring and Washington DC