Snap-in dentures, also known as fixed dentures or snap on dentures, are true to their name: They are full replacement teeth that "snap" into place.
These permanent implant dentures are 100% removable and feature a sleek design similar to natural teeth.
When you choose these dentures from the tooth replacement experts at Rockville Dental Arts, the difference in fit, performance and comfort will leave you — and the people who see you — smiling from ear to ear. 
Listen for the "Snap"!
Get Your Smile Back in a Snap: The Life-Changing Benefits of Snap-On Dentures!
At Rockville Dental Arts, snap-in dentures are our most popular denture option as over 90% choose these implant dentures over traditional plates. We make sure you leave with dentures that feel secure and comfortable.
When you partner with our tooth replacement experts, specifically our dental surgeon and our prosthodontist, you'll receive every removable denture with high-quality design, composition and comfort.
What are Snap In Dentures?
Are you dealing with a tooth disaster or a denture disaster?  Are looking to replace teeth?
If your teeth or dentures feel loose, hurt, are uncomfortable or constantly seem like they're about to fall out, you have a big problem.
But don't despair; all you need is the right pair.
These dentures will allow you to eat all the foods you want without having to use denture glue or worry about them falling out or shifting causing mouth sores.
Before and After Snap on Dentures,
Our Patient George- Upper Snap in Denture and Lower Partial Denture with Crowns
---
Snap-On Dentures vs. Traditional Dentures: What's the Difference?

Snap-in dentures are true to their name: They're essentially full replacement teeth that "snap" into place with dental implants.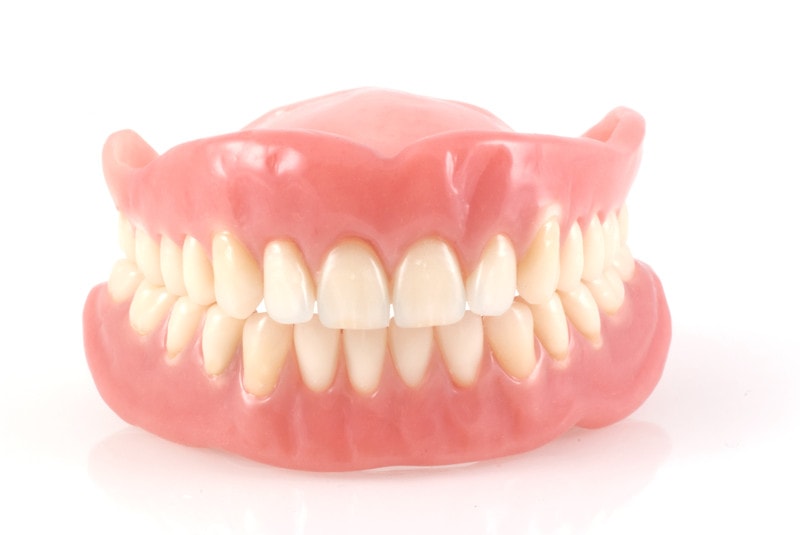 If you've worn traditional dentures before — or know someone who has worn conventional dentures— you know there is nothing traditional about them when it comes to fit and feel.
They can make it exceedingly frustrating to eat foods like corn on the cob, apples, steak or pretty much anything that requires careful chewing, turning a normally enjoyable activity into a chore with every chomp. They can also be painful and potentially harm your gum tissue and resorb the jaw bone.
Experience the Comfort and Convenience of Implant Supported Dentures
Snap on teeth, also known as clip on dentures, serve as an effective alternative and don't move around in the mouth.  They allow you to eat the foods you want and not worry about your teeth slipping. 
But how much do snap in dentures cost?  Keep reading…
As a variety of overdenture, snap-ins are fully removable as conventional dentures but their design, composition and attachment style combine comfort with cling. In other words, you can be confident they won't move on you thanks to the posts that help anchor them in place without resting on the gum tissue alone.
These are dentures that you can wear all the time.
How are Snap-In Dentures Attached?

Depending on your needs, snap-in dentures —which are also known as implant-supported dentures — require two to four dental implants in the arch for them to work and function properly. This is accomplished by carefully positioning them just below the gum line so that they latch on to the new teeth.
Snap-In Dentures: The Revolutionary Way to Achieve a Perfect Smile with Ease!
Snap-in dentures use two to four orthopedic implants along the lower jaw to fit into place. When inserting, they snap over the posts, which provide support to chewing, talking and laughing.  They will not dislodge, move around or need any denture adhesives.
The permanent snap-on dentures are removable every night, just like regular dentures.   One will need to brush the implant posts gently with a toothbrush to keep them clean.  That's why snap-in dentures are commonly referred to as implant-supported dentures.
Say Goodbye to Dentures and Hello to Dental Implants
The dental implant is a permanent solution.  When preparing any type of denture or dental implant, our team only uses high-quality materials. Similar to other false teeth, snap-on dentures are made primarily from an acrylic base. The type of implants that anchor the dentures are made from titanium, to which there are no known allergies, and they're sturdy enough to prevent any unnecessary shifting.   Additionally, your dental implants should last forever.
The bottom line is that while the snap-in dentures are removable, the titanium implants keep them secured and allow the removable dentures still to function like natural teeth. Therefore, you don't have to worry about accidentally losing a denture while enjoying easy removal at night. The implants also eliminate the need for dental adhesions like denture glue.
How Many Dental Implants Do I Need?
The number of implants you need for your snap-on dentures varies between patients.  The type of denture you want also depends on how many dental implants you need.
Our qualified dentists take their time evaluating your full mouth before determining the number of dental implants appropriate for you. We also explain why you need the dental implants and if you have any other full teeth replacement options.
2 or 4 Dental Implants for Implant Dentures
The number of dental implants required for snap-in dentures can vary based on individual factors, such as the patient's jawbone health, the type of denture chosen, and specific treatment goals. Typically, a minimum of two dental implants is required to support a snap-in denture, but this is a general guideline and not a one-size-fits-all solution.
For many patients, especially those seeking stability and improved chewing function, two to four implants are often recommended. This increased number of implants distributes the load more evenly and enhances the denture's stability and durability.
In some cases, patients with healthy jawbones may even opt for an All-on-4 or All-on-6 implant system. These innovative approaches can support a full arch of teeth with just four or six strategically placed implants, providing a strong foundation for fixed dentures.
The exact number of implants needed is determined during a thorough evaluation by a dental professional. Factors like bone density, the condition of the existing teeth, and the type of snap-in denture chosen all influence the treatment plan.
Ultimately, the goal is to ensure that snap-in dentures provide not only a secure fit but also the comfort and functionality that patients need to enjoy their daily lives with confidence. Therefore, it's essential to consult with a dentist or prosthodontist to determine the optimal implant number and treatment plan tailored to your unique needs.
Do you suffer from bone loss? Implant dentures work fabulously in any mouth with bone loss.
Palateless Perfection: Experience Ultimate Comfort and Functionality with Snap-On Dentures Without a Palate!
Without the palate on the upper denture your quality of life will greatly improve.  You'll be amazed by the difference, especially if you opt for four implants as opposed to two in the upper arch.
Food will taste better, your tongue will be happy and there will never be any gagging, as the horseshoe-shaped upper plate allows for heightened flavor and texture sensation. 
Additionally, these denture wearers will never get sore spots on the gums.
The No Palate, Horseshoe Upper Denture
You have a one-of-a-kind smile; that requires a one-of-a-kind type of denture.
You'll find it with snap-in from Rockville Dental Arts. Over 90% of our patients opt for snap-in dentures because they're cost effective, comfortable and a literal snap to fit when you wake up in the morning and take out when you turn in for the evening.
Simply press the denture outward and up from both sides, ensuring your fingers are underneath the flange for easier maneuvering.
There is a subtlety to it that may take some getting used to in the beginning — as with pretty much anything new — but before you know it, removal will feel like second nature. We'll demonstrate how it's done so there's no guesswork involved. The positioning process is even simpler.
It takes seconds. Watch this brief video to see what we mean. 
Snap-In Dentures: What Materials are Used in Their Creation?
Of all the frequently asked questions we receive at Rockville Dental Arts, this is one of the questions we get the most.
The truth is, there's no real mystery to it. As is the case with most dentures, snap-in dentures are made primarily from ACRYLIC, NOT PORCELAIN.
Acrylic is extremely durable and resilient and the material itself comes about as close as you can get to the resilience and appearance of natural teeth. 
The dental implants that serve as the anchors for missing teeth in the snap-in dentures are made from titanium metal.
Their resilience allows the snap-in dentures to click into place and they're reinforced to prevent shifting, rubbing, jostling or any other movements.
Whether you need two or four implants will depend on your situation, but you can be confident that Dr. Dennis Norkiewicz and his team won't lead you astray. He'll tell you whether two or four may be appropriate and — perhaps most importantly — why that's the case. 
Additionally, all the materials we use in our practice (e.g. porcelain, resin, acrylic, etc.) are of the highest quality, without being overly costly. 
Are You Searching For Snap In Dentures Cost Near Me?
We are located in Rockville, Maryland but we do have many patients visit us from other states to receive our top notch care.
We have had patients from New Jersey, Pennsylvania, Virginia, DC, West Virginia, Delaware and even as far as Florida!  Once you meet us you won't want to go anywhere else!
Schedule a no cost initial consultation now!
How Much Do Snap In Dentures Cost?

If you've looked into dental implants on your own by consulting with oral health specialists, or through online research, you've probably seen that they come in a variety of price ranges.
In fact, sometimes the price ranges for implant dentures is extremely wide — from a few thousand dollars to tens of thousands — making you wonder about the significant disparity.
There are a few reasons why the range tends to be broad.
First of all, severely decayed teeth may need to be removed. So even before the work can begin on the dentures mini implants themselves, a simple surgical procedure may be required to extract the teeth, place bone graft and place the implants.
After surgery in a few short months the gum tissue will fully heal. Temporary teeth will be worn so the patient doesn't have to go without teeth. We also place any implants the same time of surgery when the teeth are removed.
Once the preparatory work is taken care of, then there's the impression process, creation, fitting and final locator implant placement. In short, there are many steps, all of which take time and money.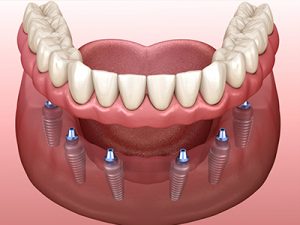 So, how much do snap-in denture implants cost?
That being said, implant-supported overdentures — a category which includes the snap-in variety — can run between $15,000 and approximately $25,000 for the entire mouth after all things are considered.  
This fee includes all extractions, dental implants, temporary dentures, and final dentures.
Compared to the conventional denture, implant dentures are a bit costlier, but worth the security of not having your teeth fall out.
---
Are Snap On Dentures Painful?
Snap-on dentures can cause some discomfort during the initial adjustment period, but they should not be painful.
It is normal to experience some soreness or tenderness in the gums, as well as minor irritation or inflammation. However, this discomfort usually subsides within a few days or weeks, as the mouth adapts to the new dentures.
If you experience persistent pain or discomfort, it is important to contact your dentist or denturist for a follow-up evaluation to ensure that the implant retained dentures are fitting properly and to address any underlying issues.
---
Find out if Implant Supported Dentures are right for you
Are you a candidate for snap-in dentures?
The only way to know for sure is by scheduling a consultation with the certified oral health experts at Rockville Dental Arts. We're here to explain your denture options and create replacement teeth that fit seamlessly into your mouth.
Get started by booking an appointment with our team now.