There are many pros and cons of full mouth dental implants.
Pros:
-Full mouth dental implants can replace missing or broken teeth and provide a permanent solution for missing teeth.
-Dental implants look and feel like natural teeth, providing a natural-looking smile.
-Dental implants are very durable and long lasting, and can last a lifetime with proper care.
-They can help improve chewing and speaking ability.
Cons:
-The cost of full mouth dental implants can be expensive, and not all insurance plans cover the cost.
-The procedure can be time consuming and require multiple visits to the dentist.
-The recovery time can be long and painful, and there is the risk of infection or other complications.
-There is a risk of implant failure or rejection, which can require additional treatments or surgeries.
The pros are your teeth are permanently screwed in, they will feel natural, and they will not decay or break.  Some cons to full dental implants are obviously the  dental implants cost, the length of time needed to complete the process (about 6 months) and the regular maintenance needed every 12 months.  
What is the all on 4 dental implants recovery time? 
Typically all our surgery takes place in one sitting so our patients experience minimal discomfort.  Usually in 1-2 days they are back to work and their normal lives.  The complete healing process is only 7-10 days.
We recommend a soft diet for about a week and gentle cleaning and brushing.  Most of our patients report taking very few pain pills.
How long do All on 4 implants last? 
Well, they never break, never get cavities and never need root canals. 
If well cared for by proper brushing, flossing, water pik and regular dental check ups every 6 months your all on 4 dental implants will last you the rest of your life. 
Pros and Cons of All on Four
There can be all on 4 dental implants problems and only a all on 4 dentist is trained to deal with those problems.  But problems are rare. 
Be careful of other dental implant centers because they may try to sell you plastic teeth.  Plastic teeth with wear and break over time leaving you stranded.  At Rockville Dental Arts we only use high quality, high strength materials such as Zirconia for our hybridge cases.
Thinking about alternatives to dental implants?  Consider dental bridges or dentures.
What is the Treatment Like?

If you think you are a candidate for all on four then you should definitely visit Rockville Dental Arts.  We are similar to Clear Choice Dental Implant Centers but offer much more value.
Here at Rockville Dental Arts you will get individual attention to your case and Dr. Norkiewicz will see you from consult to completion to maintenance.  All our work is guaranteed to last as Dr. Norkiewicz has been a skilled implant dentist for over 20 years.
Dr. Norkiewicz does full mouth implant cases every day.  It is important to have this treatment done by an office that can do your oral surgery and prepare and fit your new teeth.
Because we can offer the full treatment for the all on four cases patients save anywhere from $5,000 to $7,000 per arch as opposed to going to a two-location approach where the surgeon and the dentist will both charge for their services.  Our goal is to make full mouth dental implant treatment affordable to those on a budget.
If you do not have an experienced implant dentist then problems with implants can occur.  Rockville Dental Arts is considered the best place to get dental implants in the state of Maryland.
So you've finally decided to get tooth implants?  Read our blog for more helpful tips.
Approximately, What is the Cost of All On Four?
How much does it cost to get a full mouth of dental implants?  How much do implants cost?  There is one fixed cost for these implant cases.
Are you wondering what is the cost of all on 4 dental implants?  It varies from patient to patient and also depending on the type of material used.
For example, for an acrylic dental implant restoration on one arch, you may be charged between $12,000 and $18,000. And if the material used is zirconia with porcelain, you will pay an additional of $5000 – $8,000 per jaw, so the total cost may range between $15,000 to $30,000 per arch.  A full mouth replacement will around $30 – 60,000.
How much is the Clear Choice * cost you wonder?  Usually, they are way more expensive.  However, some patients qualify for financing as low as $250 a month.
How much is this procedure you wonder?  Obviously it depends on your case and what it entails but typically the cost of all on four with permanent teeth can run about $15k to 25k an arch.
However you must know what you are paying for.  Most other offices do the teeth-in-a-day, but what you may not know is that sometimes their teeth are made of plastic or acrylic.  If you want permanent Zirconia teeth you have to pay extra, usually another $10k per arch bringing the total to over $35k an arch.
One Cost, No Surprises
How much do full dental implants cost at Rockville Dental Arts?  Here you get permanent teeth for about $25k an arch.
The other con is really the time.  The procedure takes about 6 months to complete.  Of course you will have temporary teeth during the process but you need to be patient with the process as there are many appointments to get you the perfect set of teeth you always dreamed about.
Full Mouth Dental Implants Cost

The all on 6 dental implants cost is the same as the all on 4.  So for patients that have ample bone structure we routinely place as many implants as possible.  Because with the all on 4 if you lose an implant down the road then you are in trouble.  But with the all on 6 you will still be able to wear your teeth.
How much does full dental implants cost?  If you replace each and every tooth with a dental implant and crown you would be looking at about $100k.  Luckily we can connect 3 to 4 teeth to two implants.  Therefore you only really need up to 6 implants to rebuild an entire arch of teeth with implant crowns. 
Our all on six dental implant cost is the same as we charge one flat fee per arch and it doesn't matter how many implants we do.  The number of fake teeth one needs also affects the total price. Of course, if a person needs twelve teeth extracted, for instance, they will not pay the same as a person who will only need six teeth removed.  That is why the all on 4 dental implants cost varies from case to case.
For a less expensive option consider the implant supported dentures where we only need 2 implants to secure the prosthesis.  The average cost for the whole mouth is a better Clear Choice * alternative and only about $8-12k per arch.
All on 4 Dental Financing Options
Need full dental implants financing?  We have third party financing companies that help finance your needed dental work for as little as $200 a month.  LendingClub is the best to work with and they offer low interest payment plans so you can have your teeth today.
Our dental office is a premier member of Lending Club helping hundreds of patients pay for this type of treatment that could otherwise not afford to do this.  Lending Club can easily finance all-on-4 dental treatment for over $30,000 for upper and lower full jaw teeth replacement.
Does Dental Insurance Help Pay for All on 4?
Dental insurance does help cover the cost of this implant treatment.  Call us today at 301-424-2030 for a free consultation and accurate pricing for your particular case.  We also have cost of dental implants here.
What is the All on 4 Dental Implants Recovery Time
When having all the teeth removed and implants placed in your mouth there is undoubtedly going to be some healing.  Typically the soft tissue heals in a week or two.  There will be some discomfort for 2-3 days and some swelling for a few days, but as that passes you can enjoy more solid foods.
For the first few days try to eat just soft foods and shakes.  Dental implants full mouth cases are done in one surgery so after you heal the rest is easy.
The dental implant healing time does take a few months, but once the tissue heals you can begin chewing foods again.  For most patients we wait 3 months before making the final implant prosthesis.  In the meantime you will have all on four dentures to wear.  The dentures will look good, work for light chewing and fit comfortably.
Who is Best Qualified to do Tooth Implants?
You can go to multiple dental offices and see the oral surgeon, the periodontist and the general dentist and get bounced around from office to office.
But why do that when you can go to just one office and see one doctor who does all the treatment planning for your case, removes teeth, places the implants and makes the restorations!
Since Dr. Norkiewicz has placed and completed over 5000 dental implant cases he is the best implant doctor around that you can trust to perfect your new teeth.
We recommend going to the Clear Choice * dental locations and learning how our office is different and how we can offer you a better restoration at a better price.  You also best search for Clear Choice* reviews and compare them to our dental implant reviews.
Teeth In A Day
Can all the teeth be replaced in a day?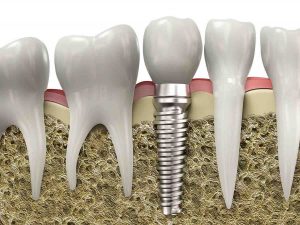 To understand them, you need first to understand what an implant is. A dental implant is a small screw inserted into your jawbone in the place where a tooth is missing and where your old root used to be.
Can you do dental implants in the same day and leave the office with new teeth?  Yes.  They are called same day dental implants.
Once multiple implants are placed, they are secure enough for teeth.  Immediate dental implants can be placed the same time the teeth are removed so you only have to go thru one surgery.
Dr. Norkiewicz will first place several implants strategically located across the jaw and anywhere between 4-6 implants to support the arch of teeth.  There is a slight difference between all on 4 and all on 6 dental implants.  Keep reading to learn more.
Once the implants are secured then a temporary row of teeth can be inserted the same day.  After 2-3 short months of healing a brand new permanent prosthesis can be fabricated and screwed into the implants.  The result is a permanent set of teeth that are stronger and better looking than your original teeth.  Also known as the clear choice technique.
If your bone structure is sound then Dr. Norkiewicz will perform the all on 6 dental implants over the all on four.  With 6 implants installed correctly the teeth have more support and are stronger especially for men that have stronger biting forces.  Some office only do all on 4, where we prefer to do all on 6 for many reasons.
All On 4 vs Traditional Dental Implants
One key difference between the traditional implants and all on four is that while the traditional implants require many single implants, sometimes up to 10 per arch, to support an entire arch.  The all on four use only 4 implants for the same space so the cost is significantly lowered.
Also, with traditional dental implants, the surgery is much more complicated, and it may take a lot of time for a person to heal and go back to eating normally.  They also feel like real teeth compared to wearing traditional dentures.
The all-on-4 also is easier to make requiring less appointments in the chair.  For traditional implants it could take 20 or more visits to fabricate the final restorations.  That's lots of hours of missed work and trips to the dental office.
With permanent teeth implants it can be made in as little as 3-5 one hour appointments and takes about 3 weeks til you get your new teeth.  Read here about the implant recovery process.
Benefits of All on 4

One of the biggest advantages of the all on 4, or also known as the hybridge dental implants, is that the patients get all their missing teeth fixed on the same day. Other benefits of implants include:
• Reduced cost. Compared to full arch restoration options, all on 4 offers a cheaper alternative.
• The surgery is minor in comparison and makes healing and recovery to be fast as well.
• This procedure includes all bone grafting which is done at the same time as placing the dental implants
How long do All on 4 Implants Last?
All on 4 treatment should last forever.  The teeth will not decay, never need root canals and should never break.  You do need to clean your teeth and visit the dentist regularly for teeth cleaning.  Read below on how to care for the all on 4.  The all on 4 treatment is meant to be permanent.
There can be all on 4 problems and only an all on 4 dentist is trained to handle those.
Am I a Good Candidate for All on Four?
If you especially suffer from teeth loss or you need to have all your teeth removed in the upper and lower jaws, this procedure may be the best choice for you. Not only are hybrid dental implants cost effective but they increase the oral health of patients by reducing the rate of dental issues like periodontitis or gum disease.
If for some reason you are not a candidate for all on 4 then dentures or snap on dentures would be your next best option.  There are many benefits to wearing dentures.
Additionally, people who also have experienced bone loss qualify for these implant restorations as well.  Also, since the procedure involves a minor surgery, it is best for people who are anxious about dental procedures.  Additionally either one arch or both arches can be completed at one time.  Get both upper and lower hybrid dental implants done at the same time.
What are the Alternatives to All on 4?

Many patients simply cannot afford to replace their teeth using this full arch dental implants method, let alone going to other national chains, which are more expensive.  There are really only two alternatives.
The next best treatment when missing all of your teeth is the Snap On Dentures.  When you compare the all on 4 vs. snap on dentures the price is significantly reduced.  That is because the teeth are easier to make, they are removable and made out of acrylic instead of Zirconia.
For those who cannot afford implants and want an alternative to dental implants then regular old dentures are the only other alternative.
Full arch dental implants are for people who have the means to spend $30-$60K or who can get financing for dental implants.  The snap in implant supported dentures are a cheaper dental implants alternative to the hybrid dental implants and run about $15k-$25k.
How to Clean All on 4 Dental Implants
The best way to clean All on 4 Dental Implants is with a toothbrush and a waterpik.
We recommend you brush your teeth for 2 minutes twice a day with a Soniccare toothbrush.  The waterpik is best used in the shower and can rinse all the debris from underneath the All on 4 prosthesis so you don't develop a calculus bridge.
If you need help on how to clean dental implants then visit your dentist and have them review properly cleaning methods with you.
In addition the All on 4 should be removed by a dentist once every 2 years for properly cleaning and re-polishing.  Full arch dental implants are more or less maintenance free.