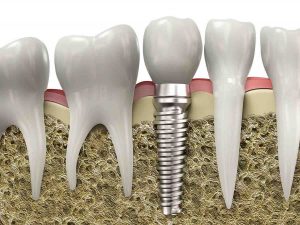 Are Dental Implants A Permanent Solution For Tooth Loss? 
Dental implants are designed to be a permanent solution for tooth loss. They are made of titanium (strongest metal on earth) and resemble a tooth root that is surgically placed into the jawbone underneath the gum line. They serve to protect the underlying jawbone by fusing strongly with it, such that it would only take a severe injury to compromise its functionality.
Unlike dentures and bridges, implants do not come loose and do not require anchorage to other teeth, making them the safest solution to replacing missing teeth. When performed by an experienced dentist and good oral hygiene observed, they could last a lifetime.
How Strong Are Dental Implants Compared To Natural Teeth? 
While implants are unmatched by any other dental restoration treatment, you might be wondering whether implants can hold up compared to real teeth. The white answer is it depends on your bone strength, individual dental health, and the current strength of your natural teeth. But considering that implants are made of titanium that is surgically placed to the bone instead of the tooth's roots, this makes them stronger and can withstand a lot of pressure, unlike the real teeth. However, this doesn't mean that a dental implant should be a substitute for healthy natural teeth.
Why Are Dental Implants Necessary?
Dental implants are essential when you have missing teeth and do not want to get bridges, dentures, or crowns. Your looks will improve significantly with implants, and the best thing is that they don't have the false appearance that you get with dentures. Besides, it is quite easier to speak with implants since they do not slide around as you work your jaws. If you consider dental implants sooner after losing a tooth, it will help prevent bone loss at the site. Implants will make you feel much better about yourself than any other conventional tooth replacement option.
Why Are Dental Implants Best For Tooth Replacement?
There is a myriad reason for receiving dental implants than other dental appliances like bridges or dentures. The main reason is that they help maintain facial appearance and keep you looking more youthful. They also offer more comfort and don't need removal, especially at night. In addition, dental implants:
– Help keep teeth in their proper position
– They preserve the jawbone
– They are superior to dentures and bridges because an implant is secured by a tooth root other than nearby teeth.
– They also have a high success rate (98%), making them the ideal treatment for tooth loss.
Do Dental Implants Work Like Real Teeth?
For years, dental implants have been used to replace missing or severely damaged teeth. They look, feel, and function the same as natural teeth. You can eat, laugh, drink, and sneeze with them as if they were your real teeth. The natural feel of an implant comes because it is fused firmly to the jawbone; they are self-supporting and will help to hold existing teeth in position.
However, an experienced specialist comes in handy to design a crown that mimics the crown of your real teeth. You do not want anyone to notice that your teeth have been worked on, and implants can perfectly help stop this from happening.
Pros: 
• It feels just like a natural tooth
• It provides comfort in feeling and appearance
• It has seen the highest success rates (98%)
• You can easily chew, speak, and smile well than with other tooth-replacement option
• It replaces a single tooth and does not need to get support from other teeth
• It stops the shrinking of bone
• Unlike natural teeth, it doesn't decay
Cons:
• Implants can be costly
• If they are not correctly placed, they may fail to provide support to the false teeth
• Your dental insurance may not cover them
• The implants may fail if there is an infection around the area or the patient has already suffered a high level of bone loss
• Poor oral hygiene can also cause implant failure
What Are Dental Implants And What Are Its Advantages? 
Dental implants are artificial tooth roots that are placed in your jawbone to act as a sturdy base for supporting artificial tooth or teeth, called crowns. Here are its advantages:
•  You'll look and feel great because they fit and function like healthy, natural teeth.
•  Dental implants are built to last. If properly cared for, they can last forever, therefore saving you a significant investment of money and time.
•  You can live your life with confidence. You'll have no limitations to eating whatever you love or smiling because you know that they won't click or slip when you eat, talk, or laugh.
•  They prevent jawbone deterioration.
Why Do People Get Dental Implants?
Dental implants are an ideal choice for adults born without a tooth as well as those who have had a tooth removed due to infection, injury, or decay. The empty gap or spaces left in your mouth after you've lost one or more teeth can lead to oral health issues such as deterioration of your jawbone. Well, dental implants come in as a replacement option that prevents bone loss and stimulate bone growth. Getting a dental implant as soon as you can after losing a tooth can help prevent bone loss at the site.
Permanent Solution to Tooth Loss – Dental Implants?
Dental implants are a permanent fix for tooth loss. If you have already tried dentures or bridges and were not content with the outcome, then getting permanent, artificial teeth can help. This dental procedure is especially useful if the patient has lost quite many teeth such that there are no supporting teeth for dentures or bridges.
Furthermore, implants do not require ongoing special care or future refitting–it is only done once. However, it is highly advisable to speak with your dentist about the advantages and disadvantages of each option, since they have the skill needed to help you get the smile you want.
What Is The Role Of Dental Implants In Oral Health?
Dental implants have a remarkable role in improving someone's health. From boosting your self-esteem when you can smile with ease, implants can significantly enhance your oral health. Consider the following benefits:
• Bone Density Protection: The implants help strengthen the jawbone with a titanium thread, preventing jawbone resorption, preserve the bone mass, and help restore the jawbone to its original strength. 
• Periodontal Health: Missing teeth leave breeding grounds for plague-causing bacteria. An implant helps fills the space, thus minimizing the risk of gum diseases such as gingivitis and periodontitis.
• Reduced Cavities: After losing a tooth, an implant can help fill out the area and avoid creating a bacteria trap that can lead to cavities.