Smile Makeover: An Overview
It may surprise some to learn that a smile makeover can be as simple as some tooth whitening or the use of some porcelain veneers. However, not all smile makeovers are as simple as that. At Rockville Dental Arts in Rockville, MD, Dr. Norkiewicz and associates offer our patients the option for a complete smile makeover that can be done quickly or even take months to complete.
3 Procedures to Give you a Better Smile
Using some of the best cosmetic dentistry and restorative techniques, our smile makeover treatments tend to include a range of procedures that are selected to improve the appearance, but also the function, of the smile. It does often surprise some patients to learn that seeking a smile makeover will lead them to a more functional smile, but when you consider the treatments used, it makes it easier to understand: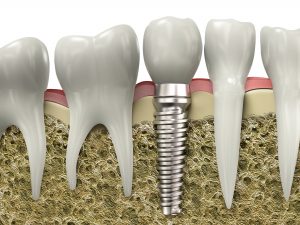 Dental implants – Missing teeth may be unsightly, but when the roots and crown are removed, it can allow the surrounding teeth to shift. This can cause the bite to be misaligned, and this easily leads to uneven wear, head or jaw pain, broken or chipped teeth and more. Additionally, dental implants improve the overall quality of life. You can eat and speak like normal, and no longer dread showing others your teeth with an unattractive gap or two revealed.
Veneers – A very commonly used form of cosmetic dentistry, veneers are durable and attractive shells that are bonded to the teeth. They are used for patients who may have cracked, chipped or discolored teeth, but they also help to create a near instant smile makeover for some. This is because they are custom made to match the colors and shapes of the patient's teeth. Some patients find they need just one or two, and some use a full set to create a makeover.
Whitening – It is astonishing what an advanced whitening treatment can do for a patient in need of a smile makeover. At times, just lightening the teeth to a more attractive and healthy color improves the smile substantially. For some, the whitening is the finishing touch after weeks or months of other remedies.
In addition to these three commonly used treatments, our patients also discuss other options that can include tooth-colored fillings and porcelain crowns as well.
To learn most about smile makeover cost visit our other pages or visit us in person and we will help you develop a customized dental treatment plan for your mouth and new smile.  Then you can show off your extreme smile makeover!
Instant Smile Makeover – the Snap on Smile
For those wanting a temporary fix to give them a beautiful smile we offer the snap on smile.  Maybe you have an event to attend like a wedding next week or you recently broke your tooth?  The snapon smile can be made within a week and you can enjoy your event and look radiant.  Of course the snap on smile is just temporary and not meant to be a permanent fix to the teeth.
If you just searched for renew my smile then you found the right dental office.  With snap on smile we can improve your smile with a simple impression of your teeth.  Within a week you will have a new smile that you can share with the world.
Wondering what is the snap on smile cost?  Most patients just do the top teeth and pricing starts at just $800 for a set of upper teeth.  Not bad for a set of Hollywood smile snaponsmile teeth.
Contact Us In Rockville MD
If you have questions about a Hollywood smile makeover, give us a call at our Rockville, MD office at (301) 424-2030. You can also use our online contact form and one of our staff will get back to you promptly.
Please select service, date and provider then click on the Find Appointments button.