Too many times, we've met patients who haven't understood just how much their shame about their smile has been holding them back in life. When you grow used to something, it's easy to pretend it doesn't matter and assume it's not something you can change.
But taking charge of your dental health is always a wise decision. Dental implants to replace a missing tooth or multiple teeth don't just help you move forward emotionally, they are also good for your dental health. When you replace missing teeth with a dental implant, you can keep your teeth from shifting so your smile stays balanced and avoid other troubles that can come from that gap in your smile.  Plus they will restore your positive self esteem.
Common Reasons People Believe They Can't Update Their Smile
If you're embarrassed by your smile, you're not alone. We've met patients who've confessed many reasons for why they put off seeking professional dental help.
Time
One reason is that they can't find the time. Life gets busy, with careers and children. It's hard to prioritize our needs, even when it comes to our health. Our office does its best to accommodate the schedule of our clients to help overcome this concern.
Money
Some patients have been unhappy with their smile for years but are concerned about financing visits to the dentist's office. This is a common concern. We help many patients work through understanding their dental insurance and other financing options. You can read more about financing dental implants on another blog post, or call our office any time to have your questions answered.
Some patients choose to finance their implant dentistry with CareCredit.  They have affordable payment plans available.
Confused about Options
Additionally, at Rockville Dental Arts we have multiple options to restore your missing teeth.  Some patients want the Cadillac and to feel like they have real teeth again that do not come out of their mouth.  For that we offer the Full Mouth Dental Implant option.  And then other patients want to take a more affordable route with the implant snap on dentures that snap on.  We offer those too.  And last but not least we are also pro's at making traditional dentures for those that want a basic option.
Many patients are unfamiliar with dental implants. They're one of many options you have for fixing a gap in your teeth. Dental implants are a permanent solution that can be treated like your natural teeth, which are big advantages for most patients.
Fear
Fear of the dentist holds many people back. Don't be ashamed if this is you! We understand how many people have this fear. Our cosmetic dentist office focuses on pain free dental procedures. One of the best ways to move past your fear of the dentist is to build up positive memories of good experiences where you were comfortable and walked away with good dental health. We would be happy to help provide that kind of experience for you when you're ready.
Importance
They think it's not important, or frivolous. Of course your smile is important! Being able to confidently smile when you go in for a job interview matters for your life. You should be able to smile with pride in your family photos. Too often, people hold their hand over their mouth when they laugh to avoid their friends and family seeing their teeth. This is unacceptable, especially when there are solutions available for you. You deserve a bright and happy smile.
Our Mission
It's important to understand that an experienced cosmetic dentist will not be shocked or judgmental about the current state of your dental health. It's unfortunate, but common, for people to neglect their smiles for a wide variety of reasons. It is our mission at Rockville Dental Arts to create the most comfortable experience possible for our patients, with the latest techniques and highest standard of care. You can trust that whatever your reasons for putting off getting help with your teeth, we'll be happy to be part of your change going forward.
What a Dental Implant Is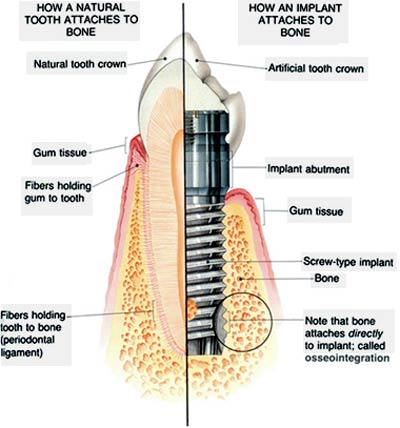 Dental implants are a permanent solution for a missing tooth or teeth. Basically, the implant is surgically installed (pain free!) with a titanium screw in the bone.  This is minor dental oral surgery.  An implant crown is fixed on the implant with an implant abutment, appearing just like your natural teeth.
The implant abutment is attached to the implant via a screw.  The screw is torqued to place to hold the implant abutment to the implant post.  Then an implant crown is cemented onto the implant abutment just like a crown is glued to a natural tooth.  The advantage is that the entire tooth is artificial and cannot decay.
Dental implants give a natural aesthetic appearance, even for your front teeth. They also preserve the health of the jawbone and keep your teeth in their rightful position.
If your teeth, gums, and jawbone are otherwise mostly healthy, dental implants may be a perfect solution for your missing tooth or teeth.  Looking for a great dental oral surgeon near me?  Dr. Norkiewicz has done thousands of implants spanning almost 20 years.
Are You Embarrassed By Your Smile?
Understand that you have options and you don't need to be embarrassed by your smile anymore. Thanks to the advances in dental technology, there are solutions for dental health problems that weren't available before. Comprehensive cosmetic treatment plans are more accessible than ever before.
Are you ready to stop being embarrassed by your smile?
Contact Rockville Dental Arts today. Our team will be happy to be part of your journey to get your smile exactly where it deserves to be.
Serving patients in Rockville, Potomac, Bethesda, Gaithersburg, Germantown, Aspen Hill, Frederick, Derwood, North Potomac, Silver Spring and Washington DC