Do you miss your charming smile?
Are you looking for solutions for missing teeth to restore your precious smile?
Most of the people think that dental implants are expensive, but the reality is astonishing. Believe me; dental implants in Maryland are affordable if you know how to find the right dental clinic nearby Rockville Md.
What are Dental Implants?
If you have never experienced teeth pain, you are a lucky fellow.
If you are on this page, it means that you are one of those who are looking for the cost of dental implants in Maryland.
The process of dental implants is specially introduced for people suffering from teeth problems. In the dental implant process, a metal screw is placed where the root of the tooth used to be. The metal is adjusted with the tissues to support a dental crown.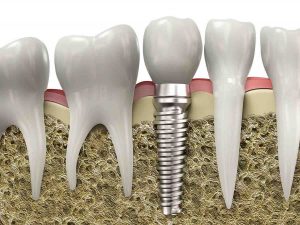 As a result of dental implants, you will get the same feeling like a natural tooth.
You can eat and drink normally after having dental implants.
These implants can also support the bridges and dentures. Dental implants are the perfect restoration for damaged teeth.
If you want to get back your pretty smile and you want to eat normally, you need implant teeth.
What is the Cost of Dental Implants in Maryland?
If you are willing to have dental implants, you must do proper research about the cost. While, there is no hard rule for the dental implants cost as it varies according to the location of your missing teeth.  The dental implants cost in Maryland depends upon many factors like:
The number of implants?
Do you need teeth removed?
Location of your chosen dental office
Experience of the implant dentist
Additional procedure along with dental implants like bone grafting
The complexity of your dental implants procedure
We provide valuable information for our readers with good faith, and these prices can vary too. If you want the exact cost for dental implants in Maryland, you can visit the Rockville Dental Arts Clinic. We have the most experienced team to offer the most affordable dental implants in the state.
In most of the areas, the dental implants procedures start from $3000 per single tooth implant. If you need your tooth to be extracted before the dental implant, the price will be higher.
Implants can also be used under dentures and dental bridges. This Md dentist office does it all when it comes to restoring missing teeth.
How much does a full mouth of dental implants cost?  The dental implants for all of your teeth can cost you about $50,000 if you do the clear choice or the all on 4 implant method.  There are cheaper options though such as implant supported dentures.
Paying For Your Treatment
Keep in mind these prices can vary depending upon your individual needs. Most of the dental clinics charge these rates for traditional dental implants.
We also accept dental insurance plans to help cover the total cost of your treatment. Rockville accepts a range of payment options as well.
Rest assured your treatment is provided as a case fee in most cases and will never exceed the cost we give you. Your oral health is important to us and we want you feel like you have natural teeth again!
Affordable Dental Implants by Rockville Dental Arts
We know that a beautiful smile is a significant part of your personality.  Your quality of life deserves it!
To restore your attractive smile, we are offering the most affordable professional dental implants at Rockville Dental Arts.
If you want to know the exact dental implants cost in Rockville, schedule an appointment at Rockville Dental Arts. We will offer you a quote for your teeth restoration.  Rockville Dental Arts experts always make sure that you get the best services at the lowest rates in the Washington DC Metro area.
To book a free consultation call 301-424-2030.