Did you know that the success rate for dental implant surgery is over 95%?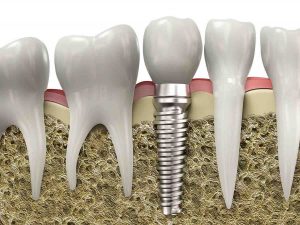 Many people have heard about and constantly ask what are dental implants. These devices are surgically inserted into your jaw to restore appearance or the ability to chew.
The best dental implants can also support dentures, bridges, or crowns since they are artificial teeth. Dental and medical experts recommend dental implants for patients because tooth loss due to injury or infection can cause severe complications.
You can significantly experience better quality of life by opting for these revolutionary medical devices. Here is the ultimate guide to dental implants with all the information you need.
Are Dental Implants Safe?
Dental implants are made of safe materials. You may come across implants made of zirconium oxide, titanium, gold alloys, cobalt alloys, and ceramic materials.
The most popular dental implants are titanium and have safety profiles with well-known materials to give you peace of mind. These devices also undergo biocompatibility testing to ensure that they will not cause complications once implemented in the jaw.
This way, you do not need to worry about having an allergic reaction or an infection if the materials are incompatible with your body.
Benefits of Best Dental Implants
Having dental implants improves your quality of health and life if you need them. The best dental implants can restore your cosmetic appearance and the ability to chew.
Implants can also support a shrinking jawbone due to bone loss. This helps preserve gum and bone health and keep your teeth stable.
Types of Dental Implants
The most common devices that are advertised everywhere are endosteal implants. These are surgically implanted into your jawbone directly where your old root used to be. After they have fused into your surrounding bone, the top of the implant gets uncovered.
This allows a specialized attachment to be connected to it so that your dental practitioner can latch artificial teeth to that area. These implants are popular in dentistry because they can effortlessly support a single crown.
A dentist can also combine this with more implants to support fixed bridgework. Endosteal implants are the most versatile but can also be costly if you need a few of them or if bone grafting is required.
Subperiosteal Implants
Then you have subperiosteal implants with a sophisticated titanium frame that is skillfully contoured to match your jawbone. The tissue covering your jawbone gets surgically reflected to hold a frame with a bar or posts.
This is to keep that frame intact and secured to your bone at three points. Your bone's tissue will then be closed so that it can heal around that frame and hold it in place.
If someone has a significantly resorbed lower jaw, they may need dentures clipped to the bar that passes through their gum. This process is excellent for those who lack sufficient bone support to support endosteal implants.
Mini Dental Implants
Mini dental implants are close to endosteal because they have a similar screw-like structure. However, these are smaller one-piece designs typically less than 3mm in diameter.
They also have ends shaped like a ball, making denture attachment easier when it protrudes past the gum tissue. Thanks to their tiny size, mini dental implants are best to stabilize lower dentures, especially if someone has low bone width.
These implants can help you wear the lower dentures more comfortably. They are also cost-effective and relatively cheaper than subperiosteal implants.
Zirconia Implants
Although titanium implants are usually all the rage and preferred by most patients due to their long-term success rates, zirconia implants are emerging as a successful alternative.
Zirconia dental implants fare better when it comes to soft-tissue response and biocompatibility. These are perfect because they naturally match your teeth's color without dark colors peeking through your gums.
This is advantageous if someone has lost their front teeth in an accident and must replace them. However, these are not the most recommended dental implants.
Zirconia implants are still a niche because very few specialists can place them correctly. Always speak to your dentist about this option.
Pick their brain to find out how much experience they have. Ensure that you read online reviews from previous patients who may have undergone a similar procedure.
Best Dental Implants Methods
There are various techniques to fix dental implants. One of the most common methods is the snap-in overdenture. Two implants are inserted in the lower jaw and canine areas.
Snap-in overdenture prevents your lower denture from shifting sideways. Thanks to this process, you can have an easier time talking and eating.
The denture will keep resting on top of your gums because it is fitted carefully like a conventional denture in the back.
Multiple Implants
There is no way of knowing how many implants every patient needs without a face-to-face appointment with a specialist. This is because the number of implants you need will depend on the structure, size, and anatomy of your jaw.
The chances of someone else having an identical jaw are slim. Multiple implant cases involve versatile techniques to space them evenly within the bone.
This is necessary if you are exhausted from using removable dentures and want something that feels more natural in your mouth.
For final restoration, your implant attachments will convert to embrace screw-retained restorations. You should have no trouble caring for these the same way as your natural teeth.
All-on-4
This technique involves 4 dental implants, hence the name. Two are placed on either side of your mouth near the back. Another two are set in the canine areas.
These are required to support a screw-retained bridge or a complete denture. If you have a small arch with few openings, this process can work well for you.
Immediate Load
This is an exceptional technique where a temporary denture or crown gets attached to your implant after it is placed. Implants gain primary stability. You will not feel anything during surgery.
Otherwise, you would spend months on a soft diet until the implants integrate with your bone if chewing forces are placed on them before the surgical sites heal.
Zygomatic
These implants are surgically placed inside a person's cheekbones or zygomatic arch.
If you do not have sufficient bone density or quality in your upper arch to support endosteal implants, this technique is the best. However, you may need to undergo complicated surgery.
Otherwise, your implant may not be secured correctly. This process is also more practical for a full mouth reconstruction to avoid splurging so much money to replace one or two teeth.
How to Get Dental Implants?
You will need to schedule an initial consultation with your dentist to determine if dental implants are the right choice. Your consultation will involve x-rays on the areas of your mouth that require implants.
These will reveal if you have enough bone density to support a dental implant. Your dentist will also check if there is enough room in your mouth for the right implants.
The next step would be to go over your entire medical history, especially since getting implants is a surgical procedure.
A reputable dentist would never miss any details. They will want to feel confident that you can physically handle the entire process.
For instance, you also need to be checked to ensure that you are not allergic to any medications. After a thorough analysis of your medical history, the dental practice will discuss a date for surgery and the overall cost.
Who Is the Right Candidate?
Most people can be suitable candidates for dental implants. However, you need to make sure that you have healthy gums. This is necessary to support the strength and weight of your implant.
You must also have adequate bone size, density, and structure. This is because dental implants are embedded into the jawbone, so you must have enough bone to support this.
If your x-rays show that you have bone issues, your dentist may discuss other treatment methods to help rebuild your bone.
Further Advice About Dental Implants
Smokers should take a pause from cigarettes if they want dental implants. A patient's mouth needs time to heal and support the dental implant.
Heavy smoking can negatively impact the healing process. It is necessary to quit smoking for several weeks to ensure successful post-treatment care.
Is the Process Painful?
Dental implant surgery involves a small incision in your gums. Then your dentist will embed the implant into your jawbone with a screw. After surgery, the wound gets closed with stitches.
Although this process sounds painful, you should feel almost no pain. Reputable dental practices always use a local anesthetic. Dentists can also recommend a mild sedative to help calm nerves about the surgery.
Get Your Implants Today
Now that you know all about the best dental implants and how you can become a candidate, you should schedule a consultation to start the process. Remember that caring for dental implants involves regular check-ups and good health practices.
If you have poor dental hygiene after the surgery, you may succumb to gum disease. Contact us today, and we can help you choose the best dental implants without a long recovery process.
Serving patients in Rockville, Potomac, Bethesda, Gaithersburg, Germantown, Aspen Hill, Frederick, Derwood, North Potomac, Silver Spring and Washington DC