Everyone deserves a beautiful smile and proper dental care.
But we all know that not all dentists possess the same set of skills, knowledge, experience, and advanced treatment plans.
If you are considering going to Clear Choice* then you should also visit Rockville Dental Arts for a complimentary consultation.
We Handle All Teeth Problems
Even though the ultimate decision on where or how you replace missing teeth is a personal one, we always advise our clients to do their research first so that they can get the best value for their money.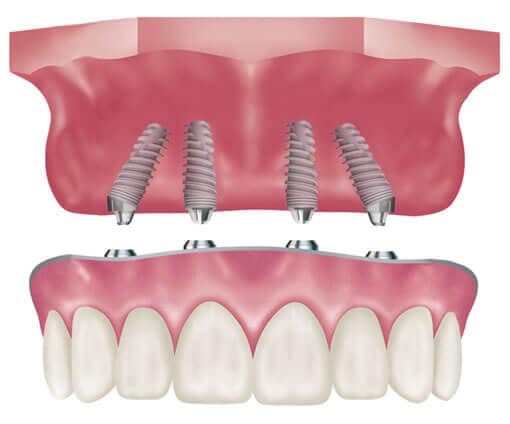 Understandably, tooth problems can significantly affect your personal, professional, and social life. In the search for a solution to tooth issues, most people end up spending thousands of dollars and hours in dental chairs only for them to end up with substandard dental care.
Whether you are interested in just an ordinary check-up or you are considering getting the All on 4 dental implants, the dentist office you visit should be able to offer that and much more.
For those of you who have already looked at Clear Choice reviews, you have probably noted that a good number of them are negative. And considering how advanced and expensive all on 4 dental implants are, it is crucial that you familiarize yourself with the procedure carried out by Clear Choice and compare it to another professional dental care provider that can also give you other options.
How We Are Different From Clear Choice
Similar to Clear Choice, we are a dental office that prides itself in having the most skilled and experienced dentists.  We employ employ several dentists, one that does the dental surgery and another who is a prosthodontist to fabricate your beautiful new smile. We use advanced technologies to ensure that our clients not only get better dental care but enjoy having a beautiful smile.
We also offer flexible appointments and fast treatment plans to accommodate our clients with busy schedules.
But, How Are We Different From Clear Choice?
We offer more than all on 4 dental implants. With us, you can get crowns as well as snap on dentures
As a dental office that cares about the wellbeing of its patients, we would like to let you know that all on 4 dental implants are the best solution for all your tooth issues. This procedure permanently fixes teeth to your jaws and you can forget about root canals or tooth decay for the rest of your life.
However, all on 4 dental implants are not always the best solution for you. Snap on dentures are the next best alternative especially if your budget can't accommodate the all on 4 option.
Unlike Clear Choice, with us, if you are unable to pay for full arch dental implants, you can get snap on dentures – about 1/2 the price of all on 4.
It's also worth mentioning that other dental offices have very high fees for all on 4's. So you better be prepared to part with more than $30k per arch. Here, you don't just get various options to all on 4's, but you also get all dental care services at affordable prices. With us, you don't have to seek dental care elsewhere.
We won't kick you to the curb once your case is finished
With us, when you get dental implant care from our office, you can still visit us for consultation, maintenance, and check-ups. We promise to take care of your teeth for years to come.
You are guaranteed a lifetime warranty on restoration
To emphasize on our dedication to our clients, we also provide a lifetime warranty on our all on 4 restoration. Therefore, once you sign up to get restorations from our dentists, you can enjoy life knowing that you are covered by a lifetime warranty.
You always get temporary teeth
One of the main cons of the All on Four procedure is that it's time-consuming. Picture waiting for up to 6 months to get a perfect set of teeth. And as if that's not enough, it may also take a while to get temporary teeth.
Here you can be assured of always getting temporary teeth as we work around the clock to restore your mouth as soon as possible. Our dentist, after securing the implants, inserts temporary teeth on the same day. And within three to six months, your permanent prosthesis will be ready.
Our prosthodontist and surgeon work together to formulate a suitable treatment plan for you and follow up to ensure you are receiving the best dental care
The problem with chain dental service providers is that they don't offer personalized treatment plans. To them, it's just business. We beg to differ. Our surgeons and prosthodontist handle every case carefully and pay close attention to every patient. Because of this, our treatment plans are designed to suit your particular dental issues. And it doesn't stop there, we keep records which helps our experts follow up on your case.
Choose the Better Option
As it stands, all on 4 dental treatments, despite being the best solution when it comes to tooth problems, it's not the most affordable. Here, we understand how inconvenient tooth problems are. And that's why we strive to offer the best dental care solutions at affordable prices.
We are very keen on quality and client satisfaction that's why we go the extra mile of providing alternative treatment options such as crowns and snap on dentures.
We also offer a lifetime warranty on restorations and once we are done with your case we provide the maintenance needed for years to come!
*We recognize that ClearChoice is a federally registered trademark