Have you ever considered dental implants to replace missing teeth, but didn't know where to start? ClearChoice Dental Implant Centers can be a game-changer for your smile. In this blog post, we'll provide an unbiased review of ClearChoice, exploring the pros, cons, and other factors you need to consider in deciding if it's the right choice for your oral health needs. To help you make an informed decision, we will also discuss clear choice reviews from real patients.
Key Takeaways
ClearChoice Dental Implant Centers specialize in comprehensive services with a commitment to quality and patient satisfaction.
Research reviews from various sources for an informed decision about ClearChoice, as there are both positive experiences and complaints reported.
Consider features unique to ClearChoice such as its specialists, technology, streamlined process & all services provided in one location when comparing providers.
Understanding ClearChoice Dental Implant Centers
ClearChoice Dental Implant Centers specialize in providing comprehensive dental implant services in a single location, streamlining the dental implant procedure and improving patient experience. Boasting over 15 years of experience in the field, ClearChoice Dental Implant Center has made a name for themselves by offering a wide range of services, from dental implant surgery to consultations and follow-ups, including upper implants.
Their commitment to quality and patient satisfaction has earned them a reputation as one of the leading dental practices, offering a wide range of dental procedures.
The ClearChoice Difference
What sets ClearChoice apart from traditional dental practices is their all-inclusive approach to dental implant services. They offer everything from free consultations to the actual implant procedure and follow-ups, all under one roof. This unique model not only makes the process more convenient for patients but also enables the ClearChoice team to collaborate throughout the entire treatment, ensuring the best possible outcomes.  Rockville Dental Arts also provides free consultations, has a team of doctors planning and executing your case and offers a one price per arch.
In addition to convenience, ClearChoice's single fixed price for all dental implant services offers the following benefits:
Eliminates potential confusion and financial surprises for patients
Provides transparency in the cost of treatment
Covers all associated expenses
Ensures that all procedures are performed at the same center
Patients can be confident in the cost of their treatment and have peace of mind knowing that all expenses are covered.
Range of Services Offered
ClearChoice offers a wide variety of cosmetic dentistry and same-day dental implant services, including 3D CT scans, surgical removal of unhealthy teeth, and precise placement of dental implants within their specialized dental offices. Their expertise extends to single tooth replacements as well as full arch restorations for those with missing teeth, catering to a diverse array of patient needs and helping them regain their replacement teeth, which look and function like natural teeth, as well as providing temporary teeth solutions.
Not only does ClearChoice provide exceptional dental implant services, but they also focus on improving patients' overall dental health. From their initial free consultation, patients can expect a comprehensive treatment plan tailored to their specific oral health needs, ensuring that they receive the highest quality care throughout their journey towards a new smile.
Analyzing ClearChoice Reviews: Pros & Cons
Like any medical service, you should thoroughly research specific ClearChoice locations and their associated doctors before initiating any treatment. Reviews of ClearChoice dental implant centers reveal a mix of positive and negative experiences, highlighting the importance of thorough research and informed decision-making.
Consider reading reviews from various sources, such as the Better Business Bureau, Google, and other third party sites.  You should also get second and third opinions from other dental offices, like Rockville Dental Arts, that provide the same service plus additional services that Clear Choice does not offer.
Positive Experiences with ClearChoice
Many patients report successful treatments and improved oral health after visiting ClearChoice dental implant centers. Their testimonials often mention increased confidence and a newfound sense of self-esteem, thanks to their restored smiles. For example, Terry, a patient who had experienced bone loss and multiple infections before his consultation at ClearChoice, has reported no further bone loss and improved oral hygiene since receiving his dental implants.
In addition to personal stories, ClearChoice has received numerous positive reviews on websites such as RealSelf and Trustpilot. Satisfied patients consistently praise the professional conduct, efficiency, and life-changing results of their dental implant procedures.
Negative Reviews and Complaints
Despite the many positive experiences, there are also negative reviews and complaints about ClearChoice dental implant centers. Common issues mentioned in these reviews include dissatisfaction with treatment outcomes, communication problems, and high costs.
Unsatisfied patients at ClearChoice should share their concerns with the clinic representatives and explore possible solutions. Prospective patients should also look up reviews for their specific ClearChoice location and its doctors before deciding on treatment.
Cost and Financing Options for ClearChoice Dental Implants
The cost of ClearChoice dental implants can vary depending on individual needs. While dental insurance coverage for these services can be limited, ClearChoice offers financing options and payment plans to help make treatments more affordable for a wide range of budgets.
Average Costs of ClearChoice Dental Implants
ClearChoice dental implants for a single tooth may cost between $1,500 and $6,000. The full mouth restoration cost could reach $40,000 per arch. Keep in mind, these costs fluctuate based on the specific treatment plan and the individual's oral health needs.
Though ClearChoice dental implants might appear expensive, bear in mind the long-term benefits and convenience of having all dental implant services in one place. The all-inclusive approach not only streamlines the process but also helps patients avoid unexpected expenses and complications that may arise when undergoing treatment at multiple facilities.
Insurance Coverage and Financial Assistance
Insurance coverage for ClearChoice dental implants can vary depending on the specific policy, with some plans covering up to 50% of the cost. However, dental implant treatments are often classified as cosmetic procedures, which may limit insurance coverage for some patients.
To accommodate those without dental insurance or with limited coverage, ClearChoice offers several third-party financing options and payment plans. These options allow patients to spread the cost of their treatment over time, making dental implants more accessible and affordable.
Comparing ClearChoice to Other Dental Implant Providers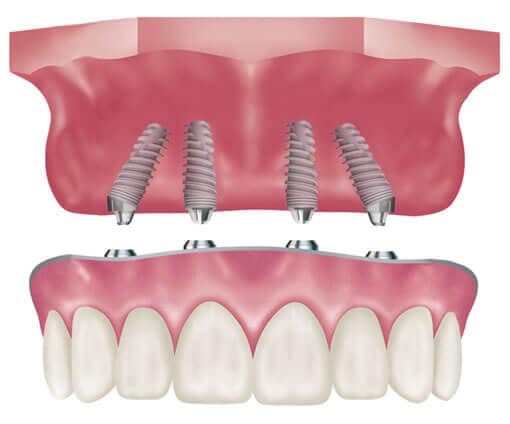 When weighing ClearChoice against other dental implant providers, like Rockville Dental Arts, ponder their unique features and possible alternatives.
Evaluating factors such as the provider's expertise, technological capabilities, and associated costs can help you make an informed decision about which provider is the best fit for your needs.
Always get multiple opinions before beginning this or any extensive dental treatment.
Features Unique to ClearChoice
One of the main features that set ClearChoice and Rockville Dental Arts apart from other dental implant providers is their comprehensive and tailored approach to dental implant treatment. Their team of specialists, advanced technology, and streamlined process help ensure the best possible outcomes for their patients.
Moreover, ClearChoice's unique model of providing all dental implant services in one location offers several benefits:
Simplifies the process for patients
Reduces the likelihood of complications arising from treatment at multiple facilities
Provides a more efficient and higher quality of care
Alternatives to Consider
Though ClearChoice provides an all-inclusive solution for dental implant services, exploring alternatives is crucial for a well-informed decision. Some other options for dental implant treatment include:
Stabili-Teeth™
Aspen Dental
Affordable Dentures
Private practice dental implant centers
When considering alternatives, follow these steps:
Research the available providers in your area.
Compare their expertise, technological capabilities, and associated costs.
Consult with your primary dental care provider for recommendations.
Ultimately, the best choice will depend on your individual needs, preferences, and budget.
Summary
In conclusion, ClearChoice Dental Implant Centers offer a comprehensive and convenient solution for those considering dental implant treatment. With their unique all-inclusive approach, advanced technology, and specialized team of experts, ClearChoice has helped many patients achieve improved oral health and newfound confidence. However, it's crucial to research specific locations, doctors, and potential alternatives to ensure the best possible outcome for your dental implant journey. With the right information and guidance, you can make an informed decision that leads to a healthier, more beautiful smile.
Frequently Asked Questions
Are snap on dentures any good?
Snap-on dentures are a more secure and comfortable option than traditional dentures, providing better fit and reduced friction on the gums. They are also considered to be more natural looking and longer lasting. However, they need to be replaced frequently and specific cleaning and care is required to avoid gum disease.
How much is a full top set of dental implants?
Replacing a full top set of dental implants typically costs around $4,500, while All-on-4 fixed implant bridges can cost between $15,000 and $30,000.
Does clear choice put you to sleep?
No, Clear Choice does not put you to sleep, rather they offer various levels of sedation depending on individual needs and comfort.
Which dental implants are best?
Titanium dental implants are considered the best option due to their long-term success rate of 95%, versatility, and compatibility with the alveolar bone. Endosteal dental implants are also highly recommended due to direct stimulation to the jawbone, resulting in a range of treatment benefits. Zirconia implants are an emerging alternative to conventional titanium implants due to their biocompatibility, soft-tissue response, and aesthetics.
What are the cons of clear choice?
Clear Choice dental implants come with some associated risks such as infection, bleeding and other surgical complications. While these are rare, they should be discussed with a doctor prior to the procedure.
*We recognize that ClearChoice is a federally registered trademark